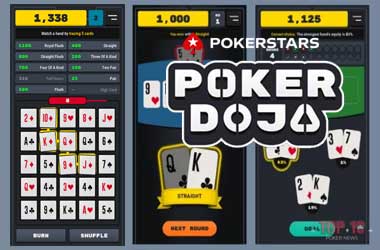 PokerStars has released a new poker app that will help aspiring poker players take their game to the next level!
The new app is called "Poker Dojo" and will not only teach you the most essential elements of poker; it will also prepare you for tough competition at the tables.
The game app is currently available on iOS and Android, with a web version also coming out soon.
Here's what you need to know about PokerStars' latest app offering:
Fast, Engaging Games to Hone Your Skills
The app features a collection of games that will test your skills and help you improve your gameplay along the way. These games serve as a great stepping stone for beginners who want to elevate their playing potential.
You will learn how to deal with pressure at the tables, as well as identify and make strong hands. Your decision-making skills will also be put to the test, especially during major all-in scenarios.
The app currently has three mini-games for you to enjoy.
The first one is called "Grid Poker". This game will test your ability to make a variety of hands as fast as you can. To make a poker hand, choose five cards on the grid. Each hand you make has a corresponding score – you'll get more points if you're able to make stronger hands! But be careful not to repeatedly make the same hand as the value will decrease each time.
The second game is called "Strongest Hand". This game will test your skills in making correct decisions. Three different hands will be displayed, and you need to pick which hand you think is the strongest and has the highest potential to win. Real money poker isn't as straightforward as this game, but nevertheless you'll get to practice your abilities in identifying the strength of a hand, which will benefit your gameplay in the long term.
Meanwhile, in "All-in or Fold", the challenge is to assess whether or not your hand is already strong enough to engage in an all-in battle against an unseen hand. You'll be asked to fold until you're confident enough to go all-in. Make sure to make your decision before your time runs out. Your score increases with every all in that you'll survive.
Available To UK & US Players Only
Whether you are in it for serious learning or simply to have a good time, Poker Dojo is a fun and engaging place start. The app is exclusive for UK and US players only. Check out the PokerStars website for further details.