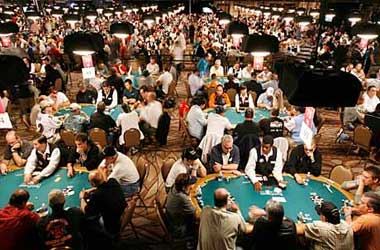 A steady reduction of poker tables has been taking place at Las Vegas casinos' over the past few years indicating a clear shift in customer preferences and the casino's decision to respond to those preferences.
The Monte Carlo casino located on the Las Vegas Strip will be joining several other casinos in reducing its poker tables. The casino will go through a $450 million renovation and as a result will be forced to close its poker room next month which houses eight poker tables.
With this closure, poker tables in the Strip will be down to a quarter of what were available a decade ago.
Earlier this month, the Hard Rock Casino Hotel closed its poker room. There have also been a number of other casinos across Vegas such as the Palms Ellis Island and the Tropicana that have also closed down their poker rooms.
Casinos regularly rejig their gaming floors in order to maximise revenue per square foot. According to industry experts, demand for poker has been slowly declining over the past decade. The poker craze started during 2003 after Chris Moneymaker brought massive attention to the game by winning the World Series of Poker's main event.
ALL IN Magazine
In a statement, David Schwartz, director of the Center for Gaming Research at the University of Nevada said,
Casinos added more tables in response to popularity, and once it became less popular, they took away the tables.
Back in 2002, Las Vegas casinos had around 144 poker tables and brought in around $30 million in revenue. Fast forward to 2007 when poker was at its peak and casinos were offering a high number of poker games. The revenue during this period tripled to $97 million with the total number of poker tables standing at 405. Last year, the game generated revenue of just $78 million with the total number of tables declining to 320.
A similar trend is seen across the state. Casinos in Nevada had around 900 tables and made $168 million in revenue during 2007 but in 2016 they netted only $118 million as the number of poker tables declined to 661. Poker has never been considered very profitable by casinos as players don't gamble against the house but against other players with the house just taking a cut as fees.
MGM Resorts International, the parent company of the Monte Carlo resort has attributed the shutting of its poker room to an overhaul that will see a full rebranding of the property with new hotels Park MGM and NoMad Hotel being opened.