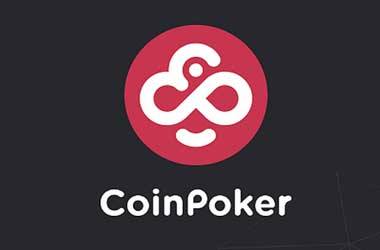 New cryptocurrency-based online poker room CoinPoker continues to make an impact in the online poker market. CoinPoker recently announced the launch of a new freeroll promotion and poker players a queuing up to take advantage of the promotion.
Bitcoin the most popular cryptocurrency in the world just crossed the $17,000 mark and has been the major driver in terms of spreading the popularity of cryptocurrencies.
The growing craze over cryptocurrencies has helped online poker operators such as CoinPoker.
When CoinPoker launched its Pre-ICO (ICO (Initial Coin Offering) in November, the operator was able to sell out its 100,000,000 CHP (CHiP) tokens in just six days.
Part of CoinPoker's promise when it launched in November was to give back 15 percent of all the tokens collected to the people who invested in the ICO. CoinPoker is keeping its promise and starting early with this giveaway called the Freeroll Promotion. This new promotion has 5,000,000 CHP up for grabs and winners are guaranteed to get a share of the tokens. This giveaway of CHPs is 5 percent of the amount of sold CHPs at the Pre-ICO.
CoinPoker launched its play-money app on Mac and Windows in October. This week, an update was sent out to all those who downloaded the app to replace the play money games with CHP-based games. This promotion comes before CoinPoker releases its official software next year.
Right now, those who choose to test drive the CoinPoker MVP (Minimum Viable Product) can join the 48 free daily tournaments to build their CHP bankroll in preparation for the launch of the official product.
A new freeroll will start every 30 minutes, running throughout the day, for four straight weeks. CoinPoker will also be holding secret tournaments that can only be accessed through secret passcodes. The passcodes can be acquired through quests that will be revealed via their social media pages on Facebook, Twitter and Telegram.
Those who weren't able to purchase CHPs during the Pre-ICO can come back to the CoinPoker site towards the end of January or early February as that is when the official ICO will be launched. Overall, 500 million CHP tokens will be put up on sale throughout the pre-ICO and ICO.
CoinPoker's success builds on its promise of security and transparency, based on its blockchain-based random number generator (RNG), and Ethereum-based CHP cryptocurrency. The operator also draws credibility from its supporters and founders, including poker player and entrepreneur Antanas Guoga, poker icon and now CoinPoker Community Manager Isabelle Mercier, and poker pro Matthew Kirk.
In a statement, Michael Josem, game security adviser of CoinPoker, said
In the past, millions of poker players across the world have lost a lot of money on untrustworthy legacy poker sites. The CoinPoker team are working hard to rebuild player trust, and are developing a series of innovative techniques to reduce the risk of cheating.