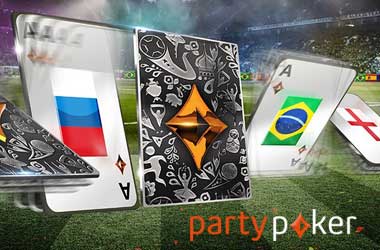 The 2018 FIFA World Cup starts next month and fans from around the world will be tuning into the action and placing bets on their favourite teams.
Poker players will also be able to join in on the fun via partypoker's FIFA World Cup-themed event called 'Click Card Championship'.
The FIFA World Cup is one of the biggest and most widely watched sporting events in the world. The 2018 World Cup will take place from June 14 to July 15 in Russia and will see as many as 32 national teams competing to win the title. There will be a total of 64 matches scheduled in 11 cities throughout the country.
partypoker is launching the 'Click Card Championship' where poker players will be grouped into teams and work their way to bring their team to the top of the leaderboard. Every player who has made a real money deposit into the site will be eligible to join the promotion by choosing a click card that assigns them to one of the 32 teams that mirrors the World Cup teams.
The 32 teams will then fight their way to sit at the top of the leaderboard throughout the duration of the World Cup from June 14 to July 15. Players earn points for their team by playing in various games in the site: 25 points maximum can be earned by playing in fastforward poker and cash games; 3 points for every MTT, an additional 15 points for every MTT final table, and 50 points for winning a tournament; 5 points for ever Jackpot Sit & Go and an additional 20 points for winning 3 Sit & Gos; 1 point for every $1 wager on the partypoker casino, with a maximum of 10 points per day; and 5 points for every soccer bet waged, with a minimum bet of $5.
Click Card Championship Prizes
At the end of the promotion, players will be awarded based on their team's standing on the leaderboard. On top of the freeroll prizes that will be awarded based on leaderboard standing, the players on the top team will get a $50 cash bonus. The players representing the team that wins the FIFA World Cup will also get a treat and win a $10 Sit & Go package each.
The one player who accumulates the most points throughout the whole 'Click Card Championship' will win a $5,300 seat into the partypoker MILLIONS Online tournament on December. Players can already start joining the promotion on June 1 to determine their teams, but earning points will only start on June 14 when the World Cup begins.