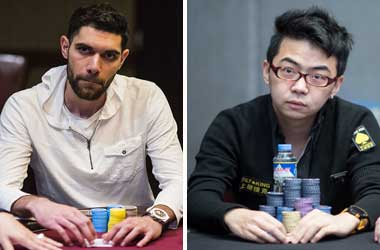 American poker pro Artur "Art" Papazyan and Taiwan pro Pete Chen close out the current World Poker Tour (WPT) season as the two Players of the Year (POY).
The fight for the POY was a close contest but Papazyan secured his win when McKeehan dropped to third place at the recently concluded Bobby Baldwin Classic.
As the WPT season winded down, Papazyan ended with $1,064,173 in total winnings and 2,450 points. McKeehan finished with $588,570 in total winnings and 2,350 points.
McKeehan had a great season with seven cashes and three final tables which pushed him up the POY ldder. But his fourth place finish at the WPT Borgata Winter Poker Open and his third place finish at the WPT Rolling Thunder fell short of Papazyan's victories.
Papazyan won these two Main Events last year, securing him at least 1,200 points for each event. He won $668,692 at the $4,000 WPT Legends of Poker Main Event in Los Angeles in August and then another $389,405 at the $3,500 WPT Maryland Live! Main Event in September. The two Main Event wins secured him his 2,400 points, plus an additional 50 points from placing 137th at the WPT Seminole Hard Rock Poker Showdown.
As this season's POY, Papazyan will get to enjoy a number of traveling perks from WPT, where all his accommodations and ground transportation to any festival next season will be taken care of by the WPT. He also won a WPT-branded Hublot Big Bang Unico Limited Edition watch estimated to be around $24,000.
In a statement, Papazyan said,
It's really nice. I wasn't planning on playing more tournaments. I'll have to play more because of the perks that come with winning player of the year…Hopefully, I can continue to run good and have success.
Pete Chen Wins Asia Pacific POY
On the other side of the continent, Pete Chen finished as the WPT's Asia-Pacific's POY. The Asia-Pacific points race took into account WPT Japan, WPT Sanya, WPT Korea, WPT Beijing and WPT India. Chen had three cashes and one WPT title during this season. His momentum at the WPT started with his $3,500 Main Event win at WPT Beijing in April 2017 which fetched him $299,485. This was followed by a cashout at WPT India and another cashout at WPT Korea.
For his win, Chen was awarded a $15,000 package that he can use for any WPT events in the region, with complimentary accommodation and ground transportation. For someone who plays at least 300 events a year, Chen really is on a roll.
The WPT Asia-Pacific POY is Chen's second POY honor, after claiming the PokerStars Asia POY in 2014. He says that after this win, he is planning to push harder and target the WSOP POY.