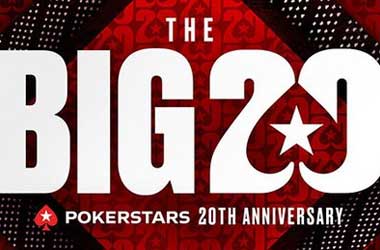 Summary
PokerStars celebrates 20th anniversary
Big 20 Players Awards voting closes on December 6
Key award categories listed below
PokerStars is celebrating 20 years in the industry, and to mark this important milestone, the operator has launched the Big 20 Players Awards, and players and fans will have the ultimate say as to who should win.
Big 20 Players Awards
If you are interested in making your vote count, head over to the PokerStars website and check out the clips provided under each category. There are 10 categories in total, each having five nominees.
You have until 00:01 GMT on Monday, December 6 to cast your vote. PokerStars will reveal the winners via live stream on Tuesday, December 7, during the final day of The Big 20 Finale.
The categories include the following:
Best Hero Fold
The nominees for Best Hero Fold are: Joep van der Bijgaart (I Hate Myself), Joel Micka (But He's A Mizrachi), Galen Hall (Why so Large?), Ike Haxton (You're A Wizard), and Dany Parlafes (How Good Can You Run?).
Best Celebration
To help you choose who celebrated best, check out these clips: John Dibella (Di-Bell Strikes Nine), Jyries Aguad (Chiquitita), Scott Seiver (Running Laps), Paul Pierce (MVP MVP!), and Bolivar Palacios (Vamos!).
Boldest Bluff Attempt
The nominees for this category are: Martin Jacobson (Call It A Gift), Gilles Bernies (Now They Know I Am Fish), Vanessa Selbst (Vanessa The Aggressor), Ronaldo (World Class Bluff), and Hossein Ensan (Blast Off!).
Best Actor
Choose the best actor from this list: Mikel Habb (Fail Fish), Kresten Nielsen (Big Toro), Daniel Negreanu (The Misclick), Ivan Freitez (The Angle), and Tony G (Without Looking).
Best Winning Moment
Here are the nominees for the Best Winning Moment: Mike Kosowski (I Want To Be A Millionaire), Robert Notkin (The One That Knocks), Ramon Colillas (From Platinum To Podium), Sebastian Malec (Fan Boy), and Victoria Coren Mitchell (It's A Brick!).
The remaining categories for the Big 20 Players Awards are as follows: Sickest Bad Beat, Sickest Cooler, Best WTF Moment, Best Bluff, and Best Hero Call.
Celebrating 20 Years
PokerStars was founded in 2001 by Isai Scheinberg and Mark Scheinberg. It has since grown to become the biggest online poker site in the world, having control of more than two-thirds of the online real money poker market.
The site celebrates its 20th anniversary this year by launching a number of events and tournaments. Last week, it launched the Big 20 Rewind, a series of tournaments that will give away up to $5.5 million in prizes.