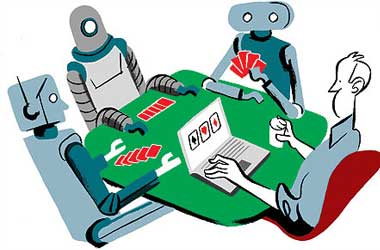 Online poker operators should promptly address the problem surrounding "superhuman" artificial intelligence (AI) bots or else be prepared to face significant revenue losses and damage to their reputation.
The warning came from the analysts at investment firm Morgan Stanley who found that AI poker bots are posing a threat to the entire online ecosystem, with a potential to damage player confidence.
Since poker is a game of skill requiring multiple players and a high level of mental and mathematical abilities, some players might utilize superhuman bots specifically designed to beat their opponents, giving them an unfair advantage.
Recreational players are the ones who are bound to bear the brunt as they are largely unaware of these threats. This is why iPoker operators should deal with this issue as soon as possible, before the damage is done permanently.
A new poker robot named "Pluribus" was launched in July through a unique collaboration between Carnegie Mellon University and Facebook Inc. When the robot was put to trial, it managed to outclass five professional poker players, in a multi-player Texas Hold'em tournament — a feat which was never accomplished by any poker AI poker bot in the past. Pluribus is a "low-cost" software developed in a short period of time and was welcomed as a huge development in AI.
Carnegie Mellon University
Morgan Stanley analyst Ed Young said that those with in-depth technical knowledge can replicate Pluribus, offering an "affordable" strategy to unscrupulous players who want to gain an edge against weaker, unsuspecting opponents. Young stated that since player confidence is important for the game of poker to continue to thrive, and once this confidence is damaged due to the threat of superhuman bots, the entire poker industry will suffer.
iPoker Operators Already Taking Action
The increase usage of bots is something major online poker operators are taking seriously these days. The Stars Group, GVC Holdings Plc, and other key players in the industry have incorporated protection mechanisms in their systems to particularly deal with bots.
partypoker is by far the most aggressive in fighting bots, closing hundreds of suspicious accounts since it started its crackdown in December 2018. The online poker operator got rid of 121 suspicious bot accounts in July 2019 and seized more than $150,000 in the process. The online poker room is encouraging all its players to report any suspicious incident that can harm their security and safety.
It also established its own Poker Fraud Team, composed of former poker pros, tasked with investigating dubious activity and helping partypoker to identify and remove unscrupulous accounts.