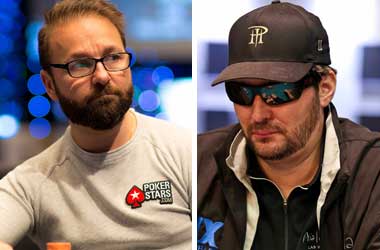 Daniel Negreanu and Phil Hellmuth are two of the biggest names in the game of poker and both of them are Poker Hall of Famers (PHoF).
Their accomplishments over the years have shown that they have not only stood the test of time but continue to be a major force in the poker industry.
Negreanu was once widely regarded as the best poker player in the history of the game and is ranked number one on the Hendon Mob's all time money list with over $34 million in career prize money.
Phil Helmuth is not too far behind as he is ranked in 6th place in the Hendon Mob's all time money list with nearly $22 million in career prize money. Hellmuth also holds the record for winning 14 World Series of Poker (WSOP) gold bracelets till date.
Poker Central
The two legendary poker players got a lot of attention this week not for their accomplishments at the poker table but because they took to Twitter and have a long draw out spat with both players not holding back. Daniel Negreanu who is known to be pretty outspoken had posted a number of Tweets after playing at the Poker Masters. Negreanu who uses Kid Poker as his Twitter handle said that at this point of time in his career he felt that the competition had become a lot better and he needed to improve his game considerably.
Kid Poker said that at this point of time he ranked himself in the top 100 poker players in the world and his goal was to get into the top 20 by Jan 2018. He also tweeted that it was important to stay humble and keep learning from the new generation of poker players to stay relevant in the game.
If I had to rank my current skill level against the best I'd say I'm in the top 100. My goal by Jan 2018 it to crack the top 20.

— Daniel Negreanu (@RealKidPoker) September 20, 2017
I'm not embarrassed to say I don't think I'm as good as these guys. They are unreal. In order to improve you have to humble yourself & learn

— Daniel Negreanu (@RealKidPoker) September 20, 2017
Hellmuth took offense to these posts and claimed that he was still the number one poker player in the world when it came to no limit Holdem tournaments.
I am always the #1 seed in no limit Hold'em tourneys DNegs, best ROI in history kid. And yes, I agree: one of us is delusional… https://t.co/V7XeGep0TK

— phil_hellmuth (@phil_hellmuth) September 20, 2017
Hellmuth also called out Kid Poker and told him that he was wrong in his assumptions that the current generation was better and asked Negreanu to give him a list of players who could beat him in no limit Holdem.
Negreanu responded pretty quickly and listed nearly 40 players who he believed could beat Hellmuth. The list included the likes of Brian Rast, Fedor Holz, Dan Smith and Jason Mercier. Poker fans also added fuel to the fire as most of them sided with Negreanu and liked his posts for being humble and willing to still learn and improve.
Your list @phil_hellmuth

Sorry it took me 6 minutes to come up with your request of 40 players to crossbook. Here you go: pic.twitter.com/Jeek3GtNHl

— Daniel Negreanu (@RealKidPoker) September 20, 2017