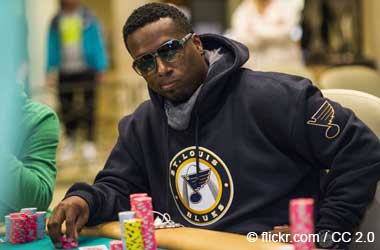 African American poker player Maurice Hawkins was recently involved in a racial incident at the 2018 World Series of Poker (WSOP) that resulted in another player being disqualified from the event. The incident was yet another challenge for the WSOP management who handled it quite well.
The incident happened during event #66 of the 2018 WSOP. This was a $1,500 No-Limit Hold-Em game that was getting pretty heated. The individuals involved were Hawkins and Adrian Sorin Lovin, a player from Italy. The two players were battling it out the entire day and the incident took place during the middle of the game.
Earlier in the game, Hawkins and Lovin were in a showdown that ended in favor of Lovin. He then started with rather aggressive banter which irked Hawkins who would later dish it out in his own way. Hawkins decided to humor himself by asking Lovin how to say "kiss my butt" in Italian, which the entire table found funny. However, Lovin's response was not friendly.
In a statement, Hawkins said
I heard shut up n*****, it was meant to call me like a boy or any other derogatory name. I took a moment, looked down at the ground and thought about my life, my family, and pretty much that I can't get banned from the WSOP. If we hadn't been at the WSOP, I'm sure things would've gone a little bit different.
WSOP Takes Swift Action
Hawkins decided to play it cool and decided to just walk away. The dealer at the table immediately called the floor. Lovin was given a penalty for the evening. He sat out of the game, while Hawkins busted out of the tournament. Lovin would go on to finish in 40 th place which meant that he would finish with a payout.
Hawkins took to social media later that night to air his grievances. He garnered a lot of support from the poker community. Despite the penalty, he felt that Lovin still got off lightly.
Well, here at the World Series, you can say.
SHUT UP NIGGER. And all you do is get a penalty for the rest of the day. Basically not disqualified. So take it for what it is. I am not protected from racial slurs or anything. Had to take a L, and I didn't like it. #HawksView

— Maurice Hawkins (@mauricehawkins) July 6, 2018
Hawkins was vindicated in his belief when on the Day 2 Restart, Adrian Sorin Lovin was met by officials of the WSOP and informed that he was disqualified. This directive came from tournament director Jack Effel.
This move by the WSOP highlights the organization's zero-tolerance policy against racism. Hawkins felt that this was the right decision as no player needed racial abuse. It also showed him that the WSOP and poker community stood for what is right and also reinforced the fact that he did the right thing by playing it cool at the table and not taking things into his own hands.