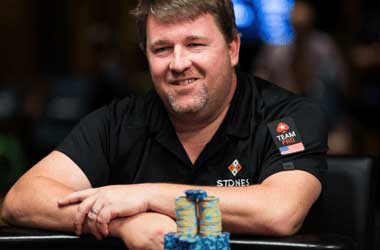 Chris Moneymaker will always be remembered as the man partially responsible for the online poker boom in 2003, when he turned an $86 online satellite into $2.5 million at the 2003 WSOP Main Event.
Moneymaker has since stayed active and continued to work towards promoting the game of poker around the world.
Moneymaker is an ambassador for PokerStars and is now part of a special promotion to give away Platinum Passes to the PokerStars Players No-Limit Hold'em Championship (PSPC).
PokerStars has selected a number of its brand ambassadors to host unique promotions and give away platinum passes. The company has confirmed that it will host a special "Moneymaker PSPC Tour" to give out nine platinum passes to event winners.
In a statement, Moneymaker said,
It's been 15 years since the big win and it only feels like yesterday. It was one of the most incredible experiences of my life and I want to give someone else the opportunity to feel that #winningmoment… Come join me to play; you never know, this could lead to a life-changing moment like I had
Players who are willing to put down a $86 buy-in, stand a chance to win a nice sum of prize money which will be determined by the entry field of each event and also win a Platinum Pass worth $30,000. The pass includes the $25,000 seat to the PSPC, plus travel and accommodations allowances to the Atlantis Casino in Nassau, Bahamas.
pokerstars.com
Moneymaker PSPC Tour Schedule
The Moneymaker PSPC Tour will include nine stops, with one pass given away per stop. The stops will take place across different spread all over the country and will also feature one online stop which will take place at PokerStarsNJ.com on September 30. Since there is an online poker shared liquidity agreement in place, poker players from Nevada and Delaware can also join the PokerStarsNJ stop.
The live Moneymaker PSPC Tour will start at the Stones Gambling Hall in Citrus Heights, California and run from August 4 to 5, before heading to the nearby Lucky Chances in Colma, California from August 19 to 26. The tour will then cover the states of Maryland, Arizona, and Connecticut from September to October, before making their final stop at the Maryland Live in Hanover, Maryland. For the full list of stops, visit the PokerStars website.
The PSPC is anticipated to become the biggest $25,000 buy-in in the history of poker and is scheduled to take place in Jan 2019 before the PokerStars Caribbean Adventure. The winner of the PSPC is expected to win at least $1 million in prize money.