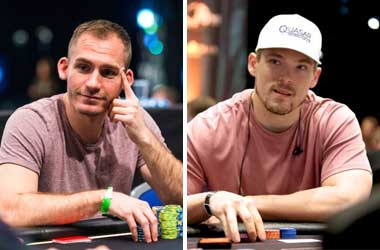 Summary
Bonomo admits to being cheated online of over $1 million
He asked the poker community to avoid attacking Foxen for outing Imsirovic
Pressure grows on major live operators to consider implementing a poker blacklist
Justin Bonomo has recently revealed he was a victim of cheating online. The American high stakes poker pro made the revelation amid the ongoing cheating controversy involving fellow high-stakes player Ali Imsirovic.
The Bosnian poker pro was alleged to have been banned by GGPoker for using real-time assistance (RTA). He was also accused of rubbernecking the hole cards of Paul Phua during a high-stakes event at the Super High Roller Bowl (SHRB).
The allegations came from Alex Foxen who, alongside his now-wife Kristen Bicknell, was also previously accused of cheating. Foxen is now being criticized by some members of the poker community, describing his recent tweets as a bit like the pot calling the kettle black.
Ali is known as a cheater to almost all in the high roller community, however without much ironclad proof, most stay silent. After watching this hand on the SHRB live stream, enough is enough.

— Alex Foxen (@WAFoxen) April 18, 2022
Justin Bonomo Claims He Lost $1M Due to Cheating
Now, Bonomo has come to the defense of Foxen, saying poker players and fans should refrain from attacking him as he is actually doing a service to the community by leading the way in bringing attention to a serious issue.
Bonomo said that while he also does not disagree with some of what Foxen has said or done in the past, it does not take away from the fact that Foxen's latest exposé should not be taken lightly especially as it involves a prominent name in the world of poker.
The four-time World Series of Poker (WSOP) bracelet winner and former all-time money list leader also claimed that a reliable source gave him some relevant information on the GGPoker ban and that he himself was a victim of online cheating, losing more than $1 million to unscrupulous players.
According to Bonomo's trusted source, GGPoker blocked some 40 accounts in September 2020, confiscating more than $1 million in funds. The violations allegedly revolve around the use of RTA and preflop charts, multi-accounting, and collusion with horses.
Poker Blacklist
The second biggest offender was allegedly "A", while the name of the player who committed the most number of violations starts with "Ja". Bonomo made it clear it wasn't Jason Koon who recently suggested that those caught consistently cheating should be banned from major live tournaments. The poker community is now suspecting that player could be Jake Schindler whose career has been tainted by multiple controversies.
Bonomo clarified he does not have direct access to the evidence, but said he trusted the source.
Apparently some people saw the 'JA' thing and are wondering if this was Jason Koon. I didn't think this would need clarifying, but no, Jason was not involved at all. If someone still plays on GG under their real name, then you know it wasn't them

— Bonologic (@JustinBonomo) April 18, 2022
These latest developments might force major operators, both live and online, to consider Koon's earlier suggestion of implementing a poker blacklist.