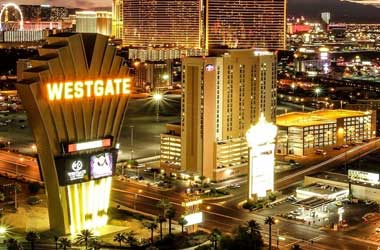 Westgate Resorts has replaced its sportsbook fan cave with a brand new poker room at its Westgate Las Vegas Resort & Casino.
The new addition had a soft opening on August 9 and now features six poker tables.
The Florida-based resort company purchased the property formerly known as the Las Vegas Hotel and Casino (LVH) in 2014.
The company closed the existing poker room and partnered with Paragon Gaming who took over casino operators.
Over the years, the property's poker room has seen several closures and openings as the hotel has changed hands several times. The Westgate is known for its sportsbook –the 25,000 square foot SuperBook which seats over 400 people and has one of the world's largest indoor LED video walls, featuring 4,488 square feet of HD quality video screens.
Westgate Resorts
The brand new poker room will come up in the space behind this. This area was earlier marked for a "Fan Cave" and was intended to be a space for fans to enjoy games in a custom built smoke free luxury surroundings, featuring three giant HD screens.
David Fried, supervisor for the new poker room said that the current management was very keen on having a poker room which was why it was set up in a short period of time. Fried added that the design of the poker room will be similar to what was present in Fan Cave and stated that it should be operational by the time the NFL season starts.
Fried stated that the poker room will be set up to enjoy the football season, pointing out that there will be three large projection TVs on one side and four large sized flat screens on the other. Additional TVs on other walls are also being considered. The poker room is close to a deli but the management will introduce table-side dining shortly after the formal opening.
The management believes that positive player feedback and word of mouth advertising will help bring in new players to the poker room. The management is also putting together attractive incentives such as buffets and restaurants credits for players who spend upwards of three hours playing poker.
The management is in the process of finalizing poker games that will be offered by the new room. Some of the poker variants currently planned include $1-2 no-limit, along with $2-4 and $3-6 limit Texas hold'em. Games of pot-limit Omaha are also being proposed as an option. Fried is hoping to introduce high stakes games like $40 daily tournaments shortly.