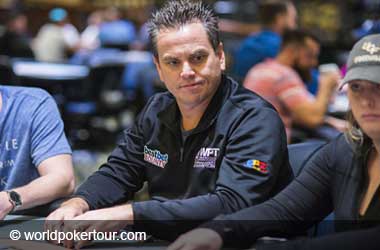 World Poker Tour (WPT) tournament director Matt Savage took to Twitter to get the opinion of the poker community with regards to WPT final table deals. While final table deals take place often in high-stakes tournaments as well as low stake events, these deals are usually not pushed by top poker operators such as the WPT and WSOP.
Tournament directors will soon have to deal with this issue as final table deals are becoming more frequent as one witnessed as the recently concluded $3,500 buy-in WPT Borgata Poker Open which concluded via a three-way deal, with the remaining players all deciding they should just chop the prize to finish off the tournament.
David Maloney emerged as the winner, taking home $487,784, while Uke Dauti and Kevin Albers finished second and third for $464,338 and $378,664, respectively.
With nothing much to play for, the final hand saw all three players simply going all in to determine the winner, with each already guaranteed a six-figure payday regardless of the outcome. Scenarios like this remove the thrill in final tables when players are supposed to give it their best to see who comes out on top. Deals like this benefit the players but take the excitement out of the final table.
In a tweet, Matt Savage asked players and fans to give their feedback on whether final table deals should be allowed, whether a Main Event should ban or permit them, taking into account television production, POY points and the Tournament of Champions seat. He also wanted to know whether or not details of final table deals should be released publicly. There have been mixed responses from the poker community so far.
The @WPT wants your opinion on dealmaking for the main tour. There are multiple factors to consider including a Tournament of Champions seat, POY points, television production, as well as live reporting. What are your thoughts on how this should take place when deals are allowed? pic.twitter.com/uaI5tsK8ni

— Matt Savage (@SavagePoker) September 24, 2019
Players and Fans Share Their Views
Several poker fans think players should have more to play for during the final table even if deals are allowed. This way, the excitement is preserved. Players also pitched in on the subject, with former WPT Player of the Year Matt Salsberg saying deals could be allowed, but 10 percent of the prize should be set aside to play for, as well as all trophies and seats.
Allow deals but keep ten pct to play for and all seats and trophies.

— Salty (@msalsberg) September 24, 2019
This should also apply to the WSOP, imo.

— Kevin Mathers (@Kevmath) September 24, 2019
Kevin Mathers echoed Salsberg's views, but he said details of the deal should be made available to the public by providing game recaps and updates. Mathers said also said POY points should be equally distributed to the players involved in the deal.
This should also apply to the WSOP, imo.

— Kevin Mathers (@Kevmath) September 24, 2019
It will be interesting to see what the WPT decides once it goes through all of the feedback and makes a decision the matter.