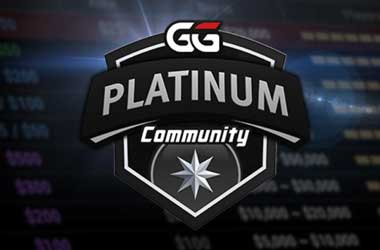 GGPoker is offering players a new way to earn their cash back. The site now has a new "GGPlatinum Community" where players can enjoy special offers and rewards and will get the chance to give their input into future developments that could happen at the site.
The GGPlatinum Community is an invite-only group, and players need to meet the full eligibility requirements before they can become part of the community.
Those interested in joining the new group may email GGPoker for complete details.
Members of the Platinum Community are entitled to some exciting perks and rewards, including special offers and discounts from a variety of poker training sites via Platinum Academy, exclusive sneak peeks and first access to new upcoming events, as well as fast-tracked player support.
In addition to that, Platinum Community members will also be able to have their say on the future of GGPoker by being given the opportunity to take part in regular polls.
Players should note that the new GGPlatinum Community is not connected to the Platinum levels in the Fish Buffet, GGPoker's existing cash bonus reward system. Regardless of your level in the Fish Buffet, you may still become part of the GGPlatinum Community as long as you meet the eligibility requirements (GGPoker has yet to release the full details with regards to these requirements).
So far, players from any level in Fish Buffet have been allowed to join the new Platinum Community.
Fish Buffet Upgrade
Originally, Fish Buffet's highest level was "Black", but it has now been replaced with "Platinum". The changes took effect in February of this year. The Platinum level in Fish Buffet isn't just exclusive to the highest of high rollers. Those who belong to the lower tiers, like the Fish, Octopus and Whale, can also enjoy Platinum status.
Players enjoy increasing cashback rewards as they progress to a higher level in Fish Buffet. Everything starts at Platinum Fish which awards $1 per $500FP, equivalent to 20 percent cashback.
Platinum Octopus awards $1 per 285FP (35 percent cashback); Platinum Whale awards $1 per 200FP (50 percent cashback); Platinum Shark awards $1 per 182FP (55 percent cashback); the highest level, The Platinum, awards $1 per 167FP, which translates to 60 percent cashback.
The GGPlatinum Community is part of a series of innovative new offerings launched by GGPoker as it aims to become the world's leading online poker operator. Players at the site now enjoy Battle Royale, a new fast-paced game, alongside other new formats like Spin & Gold and Flip & Go.