Stud Poker – Play Stud Poker Online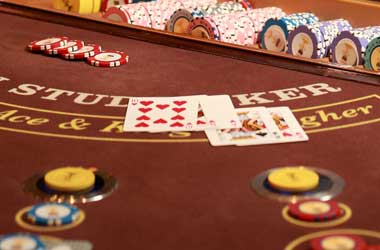 Stud poker is a lot more complicated when compared to other poker variations, but it becomes much easier to play once you completely understand the game rules. On this page, we will explain all the game rules you will need to understand the game and cover the objective of the game, how each betting round will work, and how each hand will start.
In all Stud Poker games, every player will be dealt a hand where some cards will be dealt face up, and some cards will be dealt face down, along with a betting interval after every round of face-up cards that are dealt. Traditional 5 Card Stud, also referred to as 'Open Poker', stretches back to the 19th century.
Top American Poker Rooms for July 2020All Poker Rooms are Licensed , Mobile Friendly Advertiser Disclosure
1

100% up to $1000 each for Poker and Casino
Bitcoin Welcome Bonus 125% up to $1250

100% up to $1000

Welcome Bonus

2

Promo Code: NEWBOL
+$250,000 Guaranteed Tournaments

100% up to $1000

Welcome Bonus

3

200% up to $1000

Welcome Bonus

4

200% First Deposit Bonus up to $1000
Promo Code: 1000JUICY

200% up to $1000

Welcome Bonus

5

100% first deposit bonus up to $1,000
$250 New Depositor Freeroll

100% up to $1,000

Welcome Bonus

6

100% upto $500 Welcome Bonus
$2 million in guaranteed prize pools per week

100% up to $500

Welcome Bonus

7

Promo Code: NEWSB
$50,000 guaranteed tournament

100% up to $1000

Welcome Bonus
During the 20th century, 7 Card Stud, where players can use any five of the seven cards to form a hand, managed to surpass 5 Card Stud in popularity, providing a satisfactory basis for most home poker variations that involves wild cards and other game enhancements.
There are several Stud poker variations available nowadays with the most popular including 5 Card Stud, 5 Card Stud High-Low, 7 Card Stud, 7 Card Stud High-Low, 7 Card Stud with Wild Cards, 10 Card Regrets, Auction, Baseball, Follow the Queen, Mexican Stud, Mississippi Mud, Pass the Trash, Razz, Wall Street and Woolworth.
The Objective
As with most variations of poker, the main objective of the game, in any form of Stud poker hand, is to win the pot containing all the chips contributed by players during the hand. The pot is won by the last player remaining when all other players have folded, or by a player with the highest hand value if two or more players remained after all betting rounds are over. The pot may also be shared between two or more poker players if their hand values are a tie.
Game Basics
Stud poker is played with a standard deck containing 52 playing cards. Two or nine players can play the game of stud, however, if more than seven players participate, there needs to be certain rules in place when the deck runs out. Depending on the stud poker variation, each player will either receive up to five or seven cards if they remain in the pot until the end and therefore it's possible to run out of playing cards. Unlike Texas Hold'em, Stud poker does not have any community cards. However, some of the cards that will be dealt to each player will be face up, allowing players to get a glimpse of what you might have.
Daniel Negreanu
In addition, Stud poker is normally played with a betting limit structure as opposed to pot limit or no limit betting. In Stud poker, the hand rankings are the standard hand rankings you'll find in five card poker. So, if you not familiar with poker hand rankings, we suggest educating yourself on each hand ranking and find out which hand is stronger than the next.
Starting Hand
At the start of each hand, all players participating in the hand must pay an ante. All forced bets will go into the pot and are normally around 10% or even 20% of the small bet. If you decide to play in a $10/$20 games, for instance, the ante will be between $1 or $2. Each player will then receive three playing cards (in 5 Card Stud, each player will receive two cards, one face up and one face down). One card will be dealt face up for everyone to see while the other two cards are dealt face down. The player exposing the lowest value card is then required to pay the bring-in, typically around 50% of the small blind. Should there be a tie between 2 or more players for the lowest exposed card value, suit rankings will then be used to determine which player pays the bring-in forced bet.
Betting Rounds
After the forced bring-in bet, a betting round will take place. The betting action will rotate around the table in a clockwise direction, allowing each player to make one of three betting decisions. They can either fold, discard their hand and play no further part in the pot, raise, increase the bet size, or call, matching the highest bet value at that point that, ensuring it meets the minimum of 1 small bet. Should all but one player fold, the remaining player will take the pot. However, if two or more players can call the highest bet, they will proceed to the next betting round, also known as "fourth street".
Each of the remaining players will be dealt another card at the start of fourth street, face up. Another betting round will take place which will start with the player who has exposed the best hand value (only the cards that are face up) and follow the exact format as before. The only difference in fourth street is that a player will have the option to check. If a player checks, he stays in the hand without the need to make a bet. However, once a player makes a bet, the player that checked is required to match the bet before the hand can continue.
Once the fourth street betting action is completed, and there are still more than one player remaining, the hand will advance to the fifth street. At the start of fifth street, each remaining player will receive another card, face up. Then another betting round will take place, following the exact format as fourth street. Thereafter, another card is dealt to each remaining player in sixth street, also face up, followed by another round of betting. Seventh street is the final card, if you decide to play 7 Card Stud, to each remaining player. The seventh card will be dealt face down, and another betting round will begin that follows the exact format as the previous betting rounds. If more than one player remains, the hand will proceed to a showdown.
Showdown
The player who made the last bet or raise during the seventh street will be the first player to reveal their playing cards in a showdown. Thereafter, play will continue in a clockwise direction with every player around the table revealing their hands. Keep in mind that a player can choose not to reveal their hand if they are beaten. Players can use five of their seven cards, in 7 Card Stud, to form the best possible five card hand. Whoever displays the best hand ranking will win the pot.
Stud Poker Frequently Asked Questions
1. How popular is Stud Poker?
Stud Poker is neck and neck with Texas Hold'em when it comes to popularity. Thousands of players enjoy multiple poker variations of Stud online every single day, and just as many players entering large stud poker tournaments that are offered by online poker sites. You can also expect to find stud cash tables at land-based casinos that are usually occupied by big audiences who turn up to watch the action as well as poker tournaments televised around the world.
2. Are there online Stud tournaments?
Definitely. There is a great supply of online stud tournaments running regularly at online poker sites. This allows online players to put their skills to the test against other players around the world.
3. Can you easily win while playing Stud poker?
This will obviously depend on the online poker site you are playing with and the skill level of the opponents you are playing against. More popular online poker sites will always draw more fish, so it's best to join a very popular poker site to increase your chances of winning. Stud poker is also very different to Texas Hold'em and more difficult to initially get a grasp of. Therefore, you will need to play the game more in fun mode before heading out to play for real money.
4. What stake levels can I expect with Stud Poker?
With stud poker being just as popular as Texas Hold'em, players can expect to find the same range of stake levels, ranging from a mere $0.01 and increasing up to around $200. So, there's always a table for every online poker player, regardless of their skill and bankroll size. If you are new to stud poker, we suggest you start at the micro tables and work yourself up to bigger tables when you more comfortable with the game.
5. Can I play stud poker for free?
Of course. Nearly all popular online poker sites will have a dedicated fun mode section where you can learn different variations of stud poker, how the betting rounds function, and the game rules without it costing you an arm and a leg to learn. Once you have a betting understanding of the game, you can head out to play for real money against other online poker players.
6. Can I play stud poker on my mobile or tablet device?
Definitely. Most online poker sites have optimized their poker software to run on almost every mobile and tablet device. They even offer mobile apps that can be downloaded directly onto your mobile device, allowing you to enjoy online poker while you are on the move.