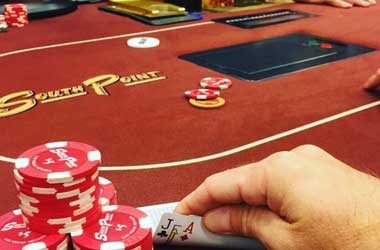 The Las Vegas live poker scene is slowly picking up the pace as live poker rooms welcome back players with exciting tournaments and daily poker action. The South Point Casino which is located south of the Vegas strip is running a poker miniseries which started on June 11 and will finish on June 22.
The miniseries was designed to promote the poker room at South Point Casino and get poker players coming in on a regular basis. The poker room is running relatively small daily poker tournaments that have a guaranteed prize pool between $3,000 to $50,000. These tournaments start at 6 pm each day, have a $250 buy-in and are very popular with low stakes poker players who like visiting the South Point poker room.
South Point decided to do something different late last week and come out with an out of the ordinary poker event. They decided to launch a special tournament called Benny Binion Shootout which had a $2,200 buy-in, offered a $256,000 guaranteed prize pool and had a 128 player cap.
South Point Has $50,000 Overlay
The bold move taken by the poker room ended up backfiring as they only had 94 players register for the tournament and it ended up creating an overlay that was over $50,000. That is a big amount for the poker room to front, especially after coming out of the COVID-19 lockdown period.
Some of the players who entered the Benny Binion Shootout shared their reasons as to why the tournament did not attract as many players as they expected. Some players said that they only found out about this special tournament a few hours before it commenced and claimed that the poker room should have done more to market and advertise this tournament.
However, some players said that they were not impressed with the $2,200 buy-in and the $256,000 guaranteed prize pool as there were other live poker tournaments and online poker events at WSOP.com that offered them a chance at a much bigger guaranteed prize pool for that kind of a buy-in.
Jason Sanborn, the poker room manager at South Point said he wasn't too worried with the overlay as he believes the Benny Binion Shootout turned out to be a success for South Point casino because players realize that the poker room kept its promise and paid out despite the overlay. Sanborn also said that they would look at using other marketing and advertising outlets to promote their tournaments.