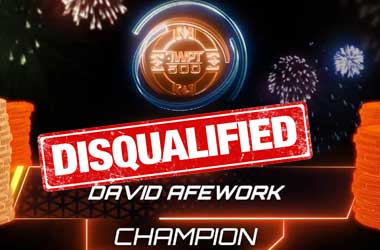 Just over a week ago, British poker player David Afework topped a field of 2,088 players to capture the WPT500 event at partypoker. The relatively unknown player won $160,210 for his performance, but that has now been taken away from him after he was disqualified due to account sharing.
Using the alias "Devplaza", Afework shared the sad news on TwoPlusTwo, and denied that he had breached any rules.
Afework's win on June 1 earned him his biggest score to date, and for him it was a massive achievement that deserved a celebration.
But everything now ended in disappointment after he was stripped of the title and all his winnings for a violation he said he had never committed.
Afework also shared that he gambled a portion of his WPT500 payout on partypoker's roulette tables, and he won another £16,000, but the operator also took it all away.
Afework detailed what could have caused partypoker to believe that he shared his account with a third party. The British grinder disclosed that he and another online poker player have been sharing the same room for the past seven months, and most probably the operator detected that they were using the same IP address. But Afework said he can guarantee that he was the only one who had access to his account and no one else.
Afework said he did not receive any assistance, and played the tournament alone on his Dell laptop for the entire duration of the event. His poker-playing roommate wasn't there. Afework did not reveal the identity of this mystery poker player.
Afework asked for advice from the online community as to what action he could take to resolve the issue. Some players suggested he brings it up to the United Kingdom Gaming Commission (UKGC).
Response from partypoker
Operators rarely provide specific details regarding the disqualification of players and the operator put out just a general statement.
A representative from the real money online poker site said they have a dedicated Game Integrity team tasked to identify erring accounts through various detection methods, and that sharing an account with a third party is a breach of their general terms and conditions. The response did not mention exactly how partypoker caught Afework committing the violation, other than saying that they "establish reasonable evidence" prior to confiscating player funds.
partypoker added that all of Afework's seized winnings have been redistributed to the affected players.