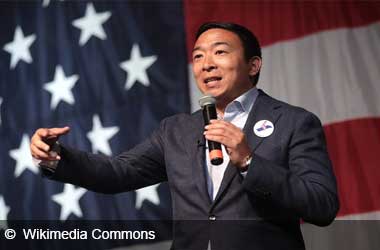 US Presidential candidate Andrew Yang attracted the attention of the poker community when he announced his support for the nationwide legalisation of online poker through a tweet less than a month ago.
Daniel Negreanu is a member of #YangGang and he will be present during the candidate's rally in Las Vegas on November 17.
Yang said legal restrictions being put in place in several states only push players towards unauthorised offshore sites. Allowing online poker in all 50 states would benefit American players and companies, while new tax revenues could be spent in mitigating addiction, he added.
Online poker is currently allowed in only four US states — New Jersey, Nevada, Delaware and Pennsylvania.
Problem Solver Politics
Yang's pro online poker stance gathered positive reactions from some of the most prominent names in the game, such as high-stakes poker player and hedge fund manager Bill Perkins, World Series of Poker bracelet winner and Run It Once founder Phil Galfond, and 2010 WSOP Circuit champ Andrew Lichtenberger. Yang also caught the attention of content creator and poker influencer Joey Ingram who even invited the 2020 Democratic candidate to come over to his show.
But the most notable response to Yang's tweet came from Daniel Negreanu, who said Yang might just be the answer to the poker players' quest for freedom.
Ummm YES!!!!

Poker players who want the freedom to play poker from home, this just might be your guy. #YangGang2020 https://t.co/pw2qA5aZqP

— Daniel Negreanu (@RealKidPoker) October 26, 2019
Negreanu Backs Yang's Candidacy
Daniel Negreanu took part in the recently-concluded WSOPE at King's Casino in Rozvadov where he spoke about Yang's tweet on online poker legalisation, as well as one of the candidate's biggest platforms, Universal Basic Income (UBI).
The UBI concept revolves around giving every US resident a guaranteed minimum income of $1,000 per month, which Negreanu fully supports. The Canadian pro said this is the right step to take as a lot of labor jobs will soon be lost due to the rise of automation and artificial intelligence. Negreanu said the move will help the country survive as a society.
Negreanu also believes Yang is the candidate to vote for especially for poker players who have long been waiting and wanting to see online poker legalised in the country. What makes Yang a stand out among his rivals is his sense of practicality and forward-thinking attitude. Furthermore, the Democratic candidate is also neutral and is hardly hated by people.
If Yang successfully gets the Democratic nomination, Negreanu thinks the American entrepreneur will give his opponents a good run for their money. The Canadian player said what America needs right now is a rock star who looks at, lives in, and understands the future.