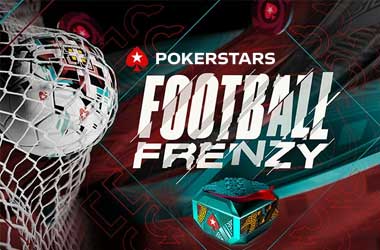 The biggest online poker website in the world has put together a special promotion to celebrate Euro 2020.
The new promotion is called "Football Frenzy" and is open to players from all over the world. This promo is part of the Stars Rewards program and the top prize will give players $25,000.
Euro 2020 started on June 11 and is scheduled to run till July 11. A total of 24 European teams are taking part in this competition and a total of 51 games will take place during the competition.
Euro 2020 is getting massive attention not just in Europe but around the world as hardcore football fans and casual fans are tuning in to see some of the best football players in the world showcase their skills.
PokerStars is looking to give football fans a special reward during Euro 2020 through this promotion. All you have to do is opt-in to the Football Frenzy promotion and you will be eligible to win all the prizes attached to the promotion. While the top prize is $25,000, PokerStars has designed the promotion to ensure that everyone gets something.
Forget fever pitch… we're in a football frenzy! 🤪🌪
Your team might not lift the trophy, but they could net you up to $25K in prizes. Find out how 👇
⚽ https://t.co/guyaIFU1kh pic.twitter.com/iqKllefPSm

— PokerStars UK & IRE (@PokerStarsUK) June 14, 2021
Every player who takes part in this promotion will be given a raffle ticket that gives them access to win up to $40,000 in prizes. If you would like detailed information of the different prizes on offer along with the terms and conditions, click on the Football Frenzy promotion at PokerStars and you will find all the information you are looking for.
Stars Reward Chest Level
Do note that you don't need to be a football fan nor do you have to know how the game of football works for you to participate in the Football Frenzy promotion. This is because PokerStars has designed the promotion to work in a very simple manner.
PokerStars has designed the 24 teams into four groups. The top group is labelled Premium, followed by Good, next you have Standard and finally you have Outsides. The 24 teams are slotted into each group based on their chances and odds of winning the Euro 2020 championship.
Players will need to complete their first progress bar on Stars Rewards to activate the promotion. They will then be given a Stars Reward Chest which has the name of one team. The name of the team will only be revealed to players when the team gets eliminated from the tournament.
Depending on which level of the tournament your team is eliminated, you will be rewarded a prize which can be a raffle ticket, instant bonuses, free spins or something special.