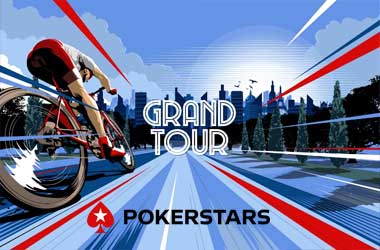 PokerStars has just launched a brand-new poker game, a fresh addition to their exciting list of innovative poker variants! The new game is named the "Grand Tour" and is a cycling-themed game with over $100,000 in prizes up for grabs.
The Grand Tour is a 4-max hyper-turbo progressive knockout Sit & Go tournament that you can play for as low as $1. A play-money version of the game called "La Course", is currently running at PokerStars' French client.
A real-money version will soon be rolled out across PokerStars' international dot-com market.
Grand Tour is played in Progressive KO format, wherein players go through different stages, dubbed "sprints", until their bounty reaches more than $100 by the end of each sprint. The game is available in buy-ins of between $1 and $60, and players have the option to begin at the lowest level ($1), or go directly into the $60 buy-in where they'll have more chances of finishing the race.
Players kick off the action with 1,000 to 1,250 starting sack, according to their chosen buy-in level. Starting bounties for each player will be equal to the buy-in minus the rake. The lower stakes will see blind levels going up every four hands, while blind levels at the higher stakes increase every six hands.
When you eliminate an opponent, up to 50% of their bounty will be added to your own bounty (60% at higher stakes). You may also get extra cash from that player's bounty value through randomized bounty prizes which can be multiplied up to 6000x.
Your own bounty increases with every opponent that you knock out, and even if you end up being eliminated from the game, you won't leave empty-handed as the money you earned from knocking out your opponents will all be yours. If you win a certain sprint, you will advance to the next sprint, and so forth, until you reach the finish line where your accumulated bounty will be added to your winnings and you ultimately become a PokerStars Grand Tour champion.
Innovation Continues At PokerStars
Severin Rasset, Managing Director and Commercial Officer for Poker at The Stars Group, said the Grand Tour is fast, competitive, and progressive and a first of its kind in the world of poker.
Over the years, PokerStars has built a strong reputation of releasing new and innovative games. Last month, it also launched Swap Hold'em, a limited-time cash-game variant. Do check out the new game and see if you like it.