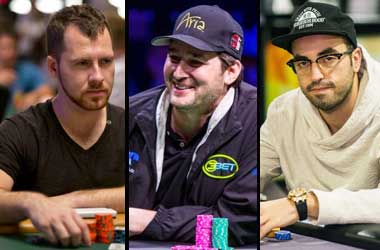 Earlier this month, Phil Hellmuth attracted another heads-up challenger in Bryn Kenney owing to the former's frequent claims that he is the "GOAT" of poker.
Phil Hellmuth is once again in high demand after he recently defeated Daniel Negreanu during Round 1 of their heads-up match on Poker Go's High Stakes Duel and will be playing in a rematch next month.
Hellmuth often brags about his reading ability, calling it his "white magic" which he claims has been instrumental to his poker success over the years.
The American poker pro has always been confident about his skills, but the new generation of pros aren't very much impressed with his style of play, one of them is Kenney who is currently at the top of Hendon Mob's All-Time Money List (15/04/2021) with more than $56,400,000 in live tournament earnings.
When Kenney challenged Hellmuth, he showcased his accomplishments in the high-stakes arena, and emphasized his current status as poker's all-time money leader in live tournament play.
Dan Cates Wants to Play Hellmuth & Kenney
The Hellmuth vs. Kenney match hasn't even been confirmed yet, and now another prominent pro has come into the picture. Daniel "Jungleman" Cates, considered one of the best heads-up players in the world, is challenging both Hellmuth and Kenney to play against him.
Cates took a different route when he issued the challenge – he did not mention his poker accomplishments nor did he resort to throwing insults, but instead he asked both players to donate to his charity, Dan Cates Foundation, and face him at the tables. The offer received a positive response from Hellmuth, but Kenney's reply was a bit harsh.
Kenney took a swipe at Cates for asking donations to his charity which he said is still very much in its infancy. He said nobody is interested to play Cates heads-up and described his challenge as an "ego post". Cates clapped back, saying Kenney's high-stakes record isn't enough to call him the best poker player.
As or my charity foundation, you can see what we've done on our IG page: dancatesfoundation. I personally visited many places in Africa, have donated etc etc. Why are you knocking me actually trying to do something good again?

— Daniel Cates 🇺🇸 🌎 (@junglemandan) April 11, 2021
Cates' $9 million in live tournament winnings pale in comparison to Kenney's, but the Maryland native made a name for himself in the world of poker through his heads-up exploits in high-stakes cash games online.
In 2010, he won more than $5 million playing online at PokerStars and the now-defunct Full Tilt Poker, making him the biggest winner for that year. On the same period, he took part in the popular "Durrrr Challenge" against Tom Dwan. That match remains unfinished up to this day, with Cates ahead by $1.2 million.