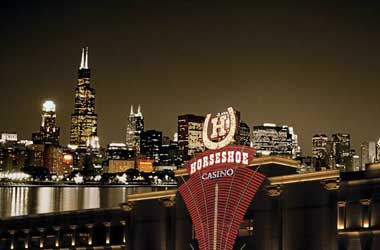 One of the most popular poker venues in the Midwest, the Hammond Horseshoe casino in Indiana, will begin re-accepting poker customers on April 19, after being closed for over a year as a result of the COVID-19 pandemic. The casino will initially offer cash games, and players will be housed in a new location.
Cash game action will kick off at Hammond Horseshoe at 10am on April 19, but for the time being, the games will only be offered for five days a week, until Friday.
Hammond has also assigned a new space for its cash games, which will now run at the casino's spacious concert hall called "The Venue" located on the second floor.
The area will still serve as the casino's entertainment space where concerts, live shows, and other entertainment gatherings are held. The Venue currently hosts an event during Saturdays, allowing it to be repurposed to a poker room from Monday to Friday.
The Venue is not entirely new to players, as it has been hosting the World Series of Poker Circuit series for many years.
Restrictions Still In Effect
It is unclear why the casino decided to move its cash games to a new location. It did not provide any explanation as to the reason for the switch, but it may have to do with ongoing COVID-19 restrictions in the state. The regular poker room at Hammond Horseshoe has a low ceiling which limits airflow and could potentially spread the virus. That's in contrast to the casino's more spacious, high-ceilinged entertainment area.
Whether or not poker action will return to the traditional room anytime soon remains to be seen. For the meantime, the space can be used as some sort of an extension of the casino floor to implement proper social distancing between gamblers.
Hammond Horseshoe also has yet to announce any timeline or schedule for when it will resume running poker tournaments.
The state of Indiana is still enforcing minimum safety protocols, such as the wearing of face masks in public establishments or during mass gatherings, to prevent the spread of COVID-19. Hammond Horseshoe will most likely require all players to wear a face mask upon entry into the casino, though it did not indicate whether plexi-glass dividers will be installed at each table to separate players.