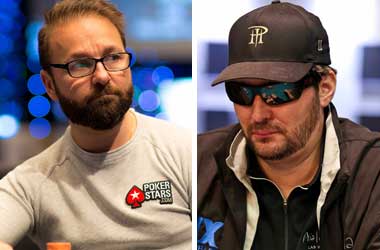 Phil Hellmuth and Daniel Negreanu are set to face each other again on May 5 during round two of their heads-up match on PokerGo's new show High Stakes Duel. The poker legends will compete for $200,000 in prize money.
Hellmuth won the first round on March 31 following a six-hour marathon, and he did so by overcoming a large deficit and getting his way out of disaster during the first four hours of play.
For some time, it appeared like Negreanu was the dominant player, but the "Poker Brat" bounced back, and the final two hours saw him holding on to a significant lead which ultimately resulted in his victory.
Both players paid a buy-in of $50,000 during Round 1, creating $100,000 in total prize pool. As per the rules of the match, no player can cash out unless the other one decides to give up, or after three matches. Meaning the $100,000 from Round 1 remains in the pot and because Hellmuth won it, he no longer needs to pay for the Round 2 buy-in.
PokerGO
$200K Up for Grabs in Round 2
Negreanu wasted no time in asking for a rematch and he got what he wanted.
That was a lot of fun! Looking forward to getting back in the ring for round 2 vs @phil_hellmuth

For those people that I know get at me if you want action at -1.50.

Congrats Phil. Quite a comeback from 97-3 or something like that 😂

— Daniel Negreanu (@RealKidPoker) April 1, 2021
The Canadian poker pro will pay another $100,000 for the May 5 match, which means a bigger prize pool of $200,000 will be up for grabs in Round 2. The stakes will continue to increase with each round, and if both players decide to complete the full eight rounds, the prize pool could go as high as $12.8 million!
The modern pros are not that impressed with Hellmuth's heads-up skills. While he has had victories in multiple HU matches throughout his career, all of that involved small samples. But the 15-time World Series of Poker bracelet winner remains confident in his abilities and even considers himself the "GOAT" of poker.
Negreanu recently lost $1.2 million in his grudge match against Doug Polk. The duo played 25,000 hands of $200-$400 heads-up no-limit Hold'em. The grueling match involved a total of 36 sessions and lasted for three months.
Who Will Win?
PokerGo's High Stakes Duel adopts a different format from traditional cash games, in that players compete in sit-n-go style no-limit Hold'em format, resulting in higher variance.
The show launched on July 30, 2020 with Hellmuth and Antonio Esfandiari battling it out in the premiere match. Hellmuth ended up winning three consecutive rounds to take home a total prize of $400,000. Will Hellmuth achieve the same in his ongoing match with Negreanu? We will have to wait and see!