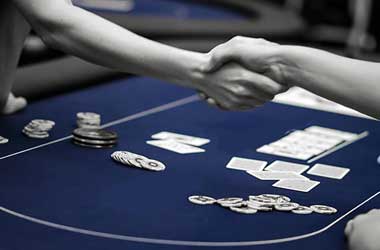 When poker players are gathered around the table and engaged in a game, it's quite common to see them make all sorts of prop bets.
After all, they are gamblers and making bets is what gamblers do.
Lex Veldhuis and Jason Somerville made a fitness bet in May and Antonio Esfandiari and Kevin Hart entered into a prop bet recently for a boxing match to take place between the two.
Current Prop Bets With Money On The Line
Poker pros continue to roll out the challenges and their fellow competitors are eager to accept as most of these prop bets involve money.
Lily Kiletto vs. Danielle Anderson
Lily and Danielle recently made a bet on which of the two can bench press more. Even though Danielle regularly does Crossfit and Lily has never even bench pressed weights, Lily has $2,000 that says she can bench press more. The two will settle things in a month. It sounds like money isn't the only motivating factor for Kiletto who is a heavy underdog to win this challenge. She said that winning the bet would be an embarrassment for Anderson which would make Kiletto very happy.
This is happening.

Also, @LilyKiletto and I bet 1k on who has the highest 1-rep bench press one month from now. What should I spend my $ on??? 🤔💸💪🏼😂 https://t.co/aNocBRxP2t

— Danielle Andersen (@dmoongirl) August 11, 2018
Lily Kiletto vs. Jamie Kerstetter
Jamie Kerstetter also got in on the action when she challenged Kiletto to a one-mile race. Lily apparently boasted to Jamie that she does more cardio so Kerstetter responded by issuing the challenge. The pair will each put up $1,000 in cash and the winner of the race will take it all.
The two will meet at the starting line in two months and then we will see which of them is faster. There might not be a whole lot of money at stake but it will be a lot of fun for whoever gets bragging rights.
Joey Ingram vs. Jonathan Bales
DFS pro Jonathan Bales has challenged YouTuber Joey Ingram to create a music video. The catch is that the video must receive 100,000 views by the time September 6th rolls around. If Ingram's video reaches the target, Bales will pay him $10,000. If the video fails to get 100,000 views then Ingram will have to fork over $5,000.
The video is called "It's Going To Be A Great Summer" and it captures highlights of Hansen along with some of the most memorable moments in poker history. Ingram acknowledges that Hansen had a great summer and he wanted to pay tribute in a musical format. Ingram urges viewers to leave comments and a thumbs up. The video has received almost 22,000 views so far.
joeingram1