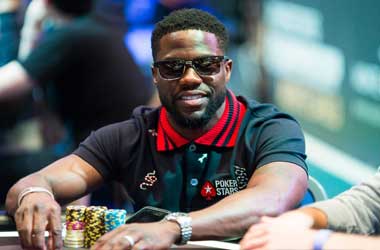 Hollywood star and comedian Kevin Hart is best known for having hit TV shows and blockbuster movies like the recent Jumanji: Welcome to the Jungle. He has also been recently making waves in the poker community.
In April 2017, he signed up as a brand ambassador with PokerStars and has been doing his best to make poker fun again. Since then he has been showing up in a variety of poker tournaments generally being a fun player to watch.
The latest poker move from Hart is a bit more instructional in nature and the Hollywood star is now dishing out poker lessons. The first few episodes of his new 'How to Play Poker' series are now available online.
Created with the assistance of the PokerStars School, these videos are a nice combination of entertainment and education. For those who are intimidated by poker and think it is a complex game, these videos are a nice breezy introduction to the game.
Currently there are three episodes available on YouTube. The first one is a short video on basic poker 'etiquette'. Emphasizing the need for acting only on the turn allotted, Hart says that players need to pay attention to whose turn it is and to play accordingly. He also says that players should keep cards on the table and have neat stacks.
Pokerstars (currently only USA)
The lessons continue in the second video. This one is about giving off tells. Tells are a big stumbling block for new players since they're usually involuntary reactions. Hart focuses on the need for players to keep their cool, no matter how bad or how good their hand is. Keeping a poker face is an essential skill and is something that people often ignore when it comes to playing poker. The third episode discusses how to bluff. This is another essential skill that a lot of beginners make mistakes with. Hart's advice is pretty basic but still very useful for the beginner.
These short videos are a great way for beginners to be introduced to the game. Though Hart may not fit the mold of a traditional poker coach, he does have some chops. He has participated in quite a few poker tournaments in recent times and while he has not won big, he has still had a lot of fun and a few cashouts.
Kevin Hart's most recent poker cashout was when he accidentally won $40,000 at the PokerStars Championship Cash 2018 in January 2018. Going head-to- head with Mila Munroe, a qualifier from Germany, he called her bluff while holding a King High. The irony of this win was that Hart thought he had a straight – but he still managed to win. He felt bad about it though so he gave Munroe $15,000 in chips to keep her in the game.