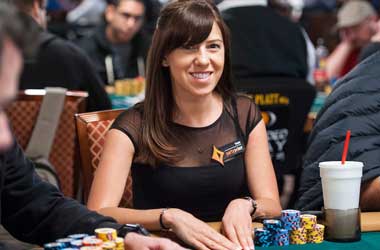 Fresh off her crowning moment as the 2018 Female Global Poker Index (GPI) Player of the Year (POY), Kristen Bicknell, started off her 2019 poker campaign on a great note. She started the New Year by taking part in the $25,000 buy-in PokerStars Players Championship (PSPC) in the Bahamas.
The Canadian poker pro managed to secure the 11th place at the 2019 PSPC and cashed out with $328,500. Bicknell who won back-to-back GPI female POY titles said that her goal for 2019 was to win her first million in prize money during a calendar year and she has already completed 30 percent of that goal within the first two weeks of the year.
Million Dollars On Her Mind
Bicknell is one of the few female poker players in the world who has had a lot of success playing poker which is generally dominated by male players. Bicknell has had success but that has come at a price as she has to constantly travel and focus on improving her game, which can be mentally draining.
Her plan is to make a million dollars in a calendar year and then take it easy as she would like to get married and start a family with her long-term boyfriend Alex Foxen . Her ideal scenario is to push hard in 2019 and make as much money as she can, which would then give her the luxury of having a good bankroll and playing poker when she feels like it.
With the success she is experiencing at the poker tables, it does not seem likely that Bicknell will move away from the game in 2019.
PSPC Adrenaline Rush
When asked about her experience at the PSPC, Bicknell said she could feel the pressure and the adrenaline rush as the tournament entered Day 3 – but she loved every single bit of the competition. Bicknell admitted Day3 went very poorly for her, with cards not going in her favor. She did not manage to accumulate the chips she would have liked but despite that, she survived the day and came back on Day 4 battling the shortstack with 22 big blinds though did not make the final table in the end.
Pokerstars
Prior to the PSPC win, her biggest cashout was $290,000 and Bicknell wanted to best that and she did exactly that. While she would have liked to have finished in the top 10, she will be happy at how she started 2019.