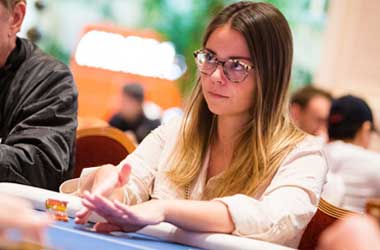 Summary
The first WCOOP Women's World Championship event was won by Belgium's "Sjlot"
Another WCOOP women-only event will take place on September 25
PokerStars continues to run exclusive events for women to attract more female players into the game
Women continue to remain underrepresented in the game of poker but it's great to know that efforts are continuing to narrow the gap and make the sport more inclusive and welcoming to female players.
One way to bring more women into the game is to hold ladies-only events and that's exactly what PokerStars did when it added not just one but two tournaments exclusive to women in the ongoing World Championship of Online Poker (WCOOP).
"Sjlot" Wins Women's World Championship Event
The first ladies-only event on the WCOOP schedule, the $530 Women's World Championship, did not hit its $65,000 guarantee after attracting just 78 entries, but as we all know, overlays benefit the players. In the end, the tournament was won by Belgium's Charlotte Van Brabander who uses the alias "Sjlot". She took home nearly $16,000 in first-place prize.
Those who missed out on the first event will get one more shot at showcasing their skills in another exclusive tournament, WCOOP 93: NLHE [Progressive KO, Women's Event] which will take place on September 25. This time around, the tournament will be available in three buy-in levels – Low ($5.50), Medium ($22), and High ($109). Players will compete for $3,000, $10,000, and $25,000 in guarantees respectively.
Since the three tournaments are played in progressive knockout format, ladies can take home some cash regardless of their finishing positions, through bounties accumulated along the way.
PokerStars Leading the Way in Attracting More Female Players
The WCOOP women's events aren't the only exclusive events hosted by PokerStars. Back in May, the online poker giant also ran a women-only tournament as part of the Spring Championship of Online Poker (SCOOP), a first in the history of the series.
SCOOP 96 also came with three buy-in tiers – $5.50, $22, and $109 – with $38,000 in combined guarantees. All three managed to smash their targets, with the Low edition exceeding its guarantee by almost 50%.
There are plenty of ladies-only events on the regular schedule as well, including the $22 Women's Sunday. With a guarantee of $2,000, it is currently the biggest exclusive tournament on PokerStars' weekly schedule. The other events are available for a more affordable price, such as the $11 buy-in, $500 GTD Women's Tuesday, and the $7.50 buy-in, $200 GTD Women's Saturday.
Apart from that, PokerStars is also running Women's Special games costing $4.40 and $8.80 to enter, offering guarantees of up to $250.