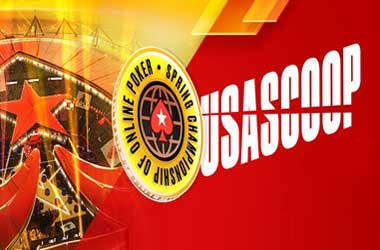 Summary
PokerStars has completed a very successful USASCOOP
The inaugural USASCOOP tournament gave away over $6.7 million in prize money
This was a 30 percent increase in the guaranteed prize money for USASCOOP
PokerStars, the biggest online poker site in the world has continued to make a strong impact in the United States. PokerStars recently confirmed that its inaugural USA Spring Championship of Online Poker (USASCOOP) has turned out to be a huge success.
2023 USASCOOP – A Big Success
PokerStars decided to take advantage of the shared liquidity market between New Jersey and Michigan and run a SCOOP event for the combined market. In the past, PokerStars ran SCOOP tournaments for each individual state.
PokerStars ran a combined SCOOP tournament for New Jersey and Michigan but a separate tournament for Pennsylvania since the Keystone state is yet to sign the Multi-State Internet Gaming Agreement (MSIGA).
The final event for USACOOP came to an end on April 03 and based on the final numbers, PokerStars has now given away $6.7 million in total prize money. When the inaugural USASCOOP was announced, PokerStars guaranteed a total of $5 million in prize money.
The New Jersey and Michigan SCOOP series took place at the same time as the PASCOOP tournament in Pennsylvania. The guaranteed prize money for New Jersey and Michigan stood at $3 million while Pennsylvania had a $2 million in guarantees. Overall, they combined to generate over $6.7 million, which is a 30 percent increase in overall prize money.
USASCOOP Expected To Get Bigger and Better
PokerStars put together a great USASCOOP schedule with a total of 126 events scheduled for New Jersey and Michigan and another 126 events for Pennsylvania. The buy-ins was similar for both markets with the lowest buy-in coming in at $10 and the highest at $2,500. PokerStars wanted to appeal to all poker players irrespective of their bankroll and the poker strategy worked well.
Based on the success of its inaugural USASCOOP tournament, PokerStars is expected to go bigger for the next edition which is likely to take place in the fall. The Pennsylvania market is expected to grow rather quickly as there is a potential of over 20 million players in the state.
The most exciting events for USASCOOP turned out to be the Main Events in both markets with the PA Main Event giving out an additional 9% over the guaranteed prize money and the New Jersey and Michigan SCOOP Main Events giving out an additional 3.8 percent over the guaranteed prize money.