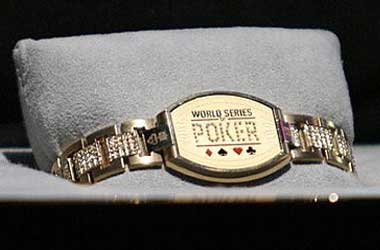 Summary:
For the first time, the WSOP is adding a Badugi event to the bracelet schedule
The Badugi tournament costs $1,500 to enter and gets underway on June 7
Badugi is a lowball variant wherein the player with the lowest hand wins
Badugi fans will have a shot at a gold bracelet in the 2023 World Series of Poker (WSOP) festival this summer. It's been confirmed that a $1,500 Badugi tournament will be among the 95 bracelet events on this year's line-up, a first in the festival's history.
The poker game has finally made it to the bracelet schedule after several years of just being part of the dealer choice and mixed games events.
First WSOP Badugi Bracelet Event
The first-ever Badugi bracelet event features an entry fee of $1,500 which is quite low considering that it is a new tournament and the variant is not that popular among players. The WSOP would normally set higher buy-ins in these situations but organizers are doing it differently now most probably because they want to attract a bigger field.
Also, this year's festival is extra special as its venue has been officially rebranded as Horseshoe Las Vegas. Horseshoe is the original home of the WSOP. What better way to celebrate this historic event than to give as many players as possible, including those who love Badugi, the chance to win a gold bracelet at a reasonable price.
The Badugi tournament is Event #20. It is a three-day tournament, kicking off on June 7. Each player is allowed one re-entry and late registration stays open for the first nine levels. Players start the action with a 25,000 chip stack, played to 40-minute levels on Day 1, increasing to 60 minutes on Day 2 and 3.
How to Play Badugi
For those who are new to Badugi, it is a lowball poker variant wherein the normal ranking of poker hands is inverted. This means the player with the lowest hand wins.
Badugi is played with four-card hands. You get a Badugi if you have four cards of different suits and ranks. When multiple players hold Badugis, the one with the lowest top card wins.
For example, a player holding 8-7-3-2 of different suits loses to an opponent holding 5-4-3-2 of different suits. The best possible hand is A-2-3-4 (aces play as a low card).
The best way to familiarize yourself with this lesser-known variant is to practice. There are online poker sites running Badugi games, including PokerStars. You can play at low stakes, test your skills, and get ready for the first-ever Badugi bracelet event at the 2023 WSOP!