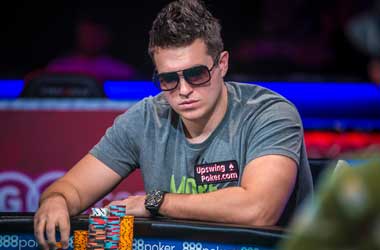 Summary:
Polk is willing to play $200/$400 with $100K buy-in against anyone
The action will take place at The Lodge Poker Club in Texas
A rematch between Polk and Dan Cates could take place
Heads-up challenges in the poker world are not going away anytime soon with Doug Polk inviting anyone from the poker community to play $200/$400 against him ($100,000 buy-in), and there's no better venue for the action than Lodge Poker Club in Texas, a poker room he co-owns.
Polk issued the challenge on Twitter over the weekend and provided more details of it in the same video that featured his interview with Garrett Adelstein.
Polk-Cates Rematch a Possibility
Polk's tweet got plenty of responses, including one coming from no other than Dan "Jungleman" Cates who asked if Polk would offer any incentive for a rematch. Both engaged in a heads-up challenge a year ago at the same venue and Polk ended up as the victor in the monster $200/$400 NL game.
You know, we already did this. Is there any incentive for a rematch?

— Daniel Cates 🇺🇸 🌎 (@junglemandan) March 25, 2023
Cates will have a shot at redemption if he accepts Polk's latest challenge, but he seems to have an issue with Polk's conditions, such as requiring any interested player to fly to Texas and play against him in his own poker room. Of course, Cates could ultimately decide to face Polk for the second time, especially as many of his fans and followers have been encouraging him to give it a go to win back his pride.
Apart from Cates, no other prominent names have expressed interest in taking up the challenge. Polk asked his followers for suggestions so he could come up with a list of potential candidates. We'll have some updates on that soon.
Polk Remembers Grudge Match with Negreanu
Meanwhile, Polk looked back on the day he challenged long-time rival Daniel Negreanu to a $200/$400 heads-up game. Dubbed the "Grudge Match", the duo engaged in a heavily-publicized one-on-one battle on WSOP.com that involved 25,000 hands and ran for over three months. The match ended with Polk earning a massive $1.2 million.
Since then, Polk hasn't been actively playing as he is focused on managing The Lodge alongside his mates Brad Owen and Andrew Neeme.
Polk expressed his joy at having the chance to play at the same level again, but this time, the action will take place in his own card room which adds a new level of excitement for the semi-retired pro. It's interesting to see who will step up and take on Polk, who is considered one of the best heads-up no-limit hold'em players in the world.