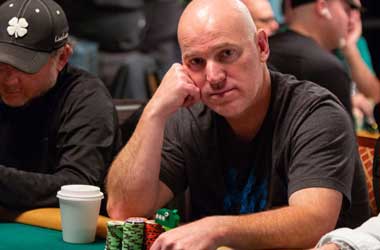 The $1,000 Seniors No-Limit Hold'em Championship at the 2018 WSOP concluded with a record-setting field and a new inductee to the WSOP bracelet circle: Matthew Davis.
Davis came to the 2018 WSOP with only two other WSOP cashes in his belt, one in 2007 and another in 2009 to give him a total of $7,000 in total WSOP cashes over the years. But this year, things changed for the senior poker player after he took down the historical Seniors Event.
The Seniors Event saw a total of 5,918 entries and ended up breaking last year's record of 5,389 registrations.
Because of the huge turnout, the championship event amassed a huge $5,326,200 prize pool and the biggest chunk of $662,676 went to the winner Matthew Davis.
pokernewsdotcom
Davis competed at the Seniors Event at the WSOP for the first time because this is the first year that he met the criteria to play at the Seniors Event. At 50 years old, Davis was not really expecting anything major to take place at the event. He just wanted to cash, like he did in some of the previous years but things turned out very different for him. He ended up enjoying the Seniors Event which had one of the most fun loving group of players at the tables.
In a statement, Davis said,
That's forever. No matter what, I have that bracelet…It really is great. There is no point where somebody is staring me down at for three minutes, just putting a huge sweat on me. So many people just joking, telling stories. I was laughing so many times during the event, even at the final tables, joking around. It was a lot of fun
Davis Had To Play His Best To Win WSOP Bracelet
The event was a lot of fun but it still took a lot of hard work for him to finish in first place. Davis reveals that his win did not come easy, and he was risking his chips all the time throughout Day 3. But as he got to the Final Table, he was able to see better cards and play better. In the end, going head to head with 2012 Senior Event final table finisher Bill Stabler. Stabler took home a nice $409,456 for finishing second while New Zealand poker player Scott Hamilton-Hill finished in 3rd place and took home $303,859.