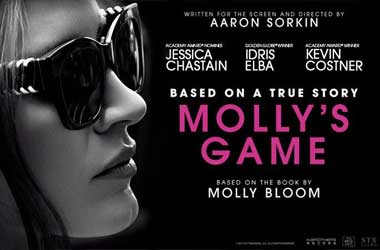 Poker movies are few and far between. The usual focus when it comes to celluloid fame is on blackjack or baccarat, a simpler and more random game that lends itself well to cinema conventions.
The last successful poker film was Rounders which was released in 1998's. However, with the premiere of "Molly's Game," on December 25, a new poker film has finally hit the market.
Aaron Sorkin has written and directed Molly's Game which is based on the true-life story of Molly Bloom. Bloom successfully ran a regular high-stakes poker game that catered to the rich and famous.
This included Hollywood stars and celebrities that managed to lose and win millions at the table. These secret high stake games lasted for several years and ended when Bloom was arrested by the FBI in a sting operation.
STX Entertainment
Molly's Game sees Jessica Chastain playing the part of Bloom and has a cast that includes Kevin Costner, Idris Elba, Micheal Cera and Jeremy Strong. This new poker movie has the star power and the creative chops to be an impressive watch and based on the ratings so far, it looks like many critics agree that it is a good movie. The movie had an early screening at the Toronto International Film Festival and has earned mostly positive reviews.
Popular review site Rotten Tomatoes has weighed in and the score so far is pretty high. The site aggregates multiple reviews both from professional critics and ordinary viewers and presents an average rating. Critics rate it at 83%, which is pretty high, while the audience has it at a significantly high 87%.
As for individual critics, a lot of them have differing views on the movie, but on the whole, they are mostly positive. Many agree that Sorkin, in his directorial debut has managed to hit this one out of the park. The veteran writer has already shown his skill at creating an engaging script by writing classics such as 'A Few Good Men'. He now shows that he can also direct with Molly's Game.
The movie is also helped by the fact that it has a powerhouse cast. Chastain has been seen in many Hollywood hits recently and Molly's Game continues that streak. Elba and Costner also deliver great performances. There are some mixed reviews as well. Some critics point out that the movie is a bit long and repetitive. Despite that though, many agree that the movie is deserving of a watch.