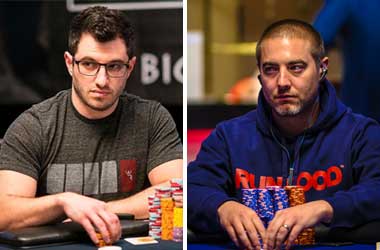 A final date has been set for the much awaited PLO battle between Phil Galfond and Chance Kornuth. Both players will go head to head at the poker table on September 16, as part of the ongoing Galfond Challenge.
Kornuth, a two-time World Series of Poker (WSOP) bracelet winner, will take on Galfond on a 4-1 sidebet, putting his $250,000 on the line, against the Run It Once founder's $1 million. The match will involve more than 35,000 hands of €100-€200 PLO. The official schedule was confirmed by Kornuth recently. He also said if either of them failed to show up and kick off the action on the agreed date, a penalty will be imposed.
The Galfond Challenge is a series of heads-up PLO matches between Galfond and his challengers, which started in February. Three battles have since been completed, with Galfond emerging victorious in each of them. He beat online poker legend "Venividi1993" in epic fashion despite being on the ropes several times.
Both played 25,000 hands of €100/€200 PLO, with Galfond initially stuck on the losing end before making a massive comeback. Galfond eventually pocketed €12,371 from the match, alongside €100,000 from their sidebet.
Run It Once
Following his remarkable victory against "Venividi1993", Galfond also went on to outclass hedge fund manager Bill Perkins for $90,000 in $100/$200 PLO across 50,000 hands. The action took place on partypoker.
"Actionfreak" also lost to Galfond after playing €150/€300 PLO across 15,000 hands. Galfond was in the lead by €114,803 and also won the €150,000 side bet. After that, Galfond won a warm-up match against Dan "Jungleman" Cates for €86,870, with the full challenge still in the pipeline.
While Galfond managed to beat all of his opponents in the PLO Challenge so far, Kornuth is excited for his turn to take on the RIO boss, with the previous matches giving him an insight about how Galfond does his thing. This, according to Kornuth, will eventually help him in making decisions at the table.
Highly-Anticipated Match
In 2019, Kornuth had crushed the live tournament tables, scoring a total of three runner-up finishes at the Poker Masters, one of them was a PLO tournament. He is also set to compete in delayed final table for the World Poker Tour Main Event.
The upcoming match has been highly anticipated, with PLO fans eager to see who will eventually put an end to Galfond's winning streak. Could it be Kornuth? We will have to wait and see.