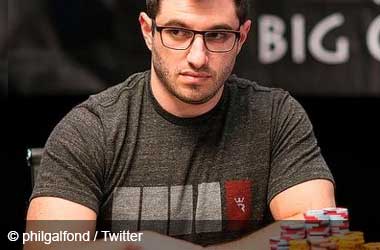 Phil Galfond is enjoying every bit of his newly-launched poker site Run It Once (RIO) Poker. The American poker pro recently immersed himself into the RIO and played using his real name, contrary to the table alias used by other players.
He has recently been allowed to begin playing at his own site, thanks to policy changes implemented by the company and the regulators.
Galfond is keeping the poker world in the know about the latest happenings on RIO by streaming games on the company's Twitch channel.
Many small-stakes players might dread playing against Galfond as he is considered among the world's most popular crushers, with three World Series of Poker bracelets under his name. However, RIO's latest promotion certainly managed to alleviate their fear and generate excitement instead — Galfond is currently carrying a bounty on his head, and those who can stack him for at least 100 big blinds will receive a bonus worth €20.
The promotion proved to be a hit, with the RIO seeing increased participation in recent weeks. The rare opportunity to be up against one of the best players in the game while at the same time winning some extra prizes is something that attracts small-stakes players. According to Galfond, who was streaming for six consecutive days, traffic levels are definitely higher than the first time he took part in the games.
Galfond's presence clearly contributed to the traffic boost, with an estimated 300 cash game players recorded during his 40-hour stream. Traffic has slightly dropped since, but overall everything has turned out positive for the new poker site.
Galfond will take a short break from streaming on the RIO in the coming days due to his commitments. Numbers may drop a bit due to this, but the poker pro has assured his fans he will be back soon and will consider streaming on a regular basis depending on feedback.
Feedback Wanted
Having a first-hand experience of playing on his own site provided Phil Galfond with a new outlook on the positives and what still needs to be improved. Overall, he is satisfied with everything is at RIO, though he acknowledged that the site is still far from being profitable.
Having played the games himself, Galfond has announced that RIO could have the best software in the industry in the coming year. Galfond is still looking for more feedback, positive and negative, as he stays on track with his goal to build a premier site and take the poker experience to a whole new level.