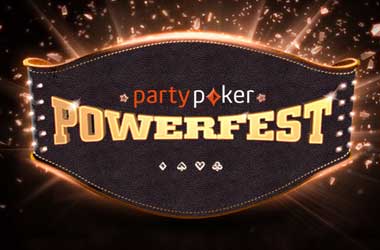 PartyPoker has over $60 million in guaranteed prize money ready to be won during this year's "Powerfest" online poker series. The online poker series is scheduled to take place between September 2nd to 21st.
PartyPoker's Powerfest will be running at the same time as PokerStars will be holding their World Championship Of Online Poker (WCOOP) which boasts a $70 million prize pool and over 60 separate events. Despite PartyPoker's flagship event competing with the WCOOP, this ninth annual Powerfest should go down as PartyPoker's largest and most successful event in their history.
This will be a feast for online poker pros who will have a great selection between WCOOP and the Powerfest series with over $100 million in guaranteed prize money up for grabs.
PartyPoker's premiere event will feature 670 events which have buy-ins ranging from $1.10 all the way up to $25,500. Players can also win their Powerfest entries for as little as a penny through the many online satellites that are currently underway. This three-week-long series will see plenty of high-value tournaments that have massive prize pools.
partypoker
Championship Events
A total of 20 championship events will give competitors the opportunity to win big prizes. A total of 15 championship events will have prize pools exceeding $1 million with the $25,500 Championship Event having a guaranteed $3 million up for grabs. There will be $2 million in guaranteed cash will be on the line in the $10,300 Super High Roller on September 18th and players can battle it out for a $1 million purse in the $5,200 Super High Roller on September 3rd , the $1,050 High Roller on September 9th, and the $1,050 High Roller on September 23rd .
There will be a $10,300 6-Max PLO tournament with $500,000 in prizes on September 18th and a $55 Medium Level Championship event with a $250,000 prize pool on September 23rd .
Other Ways To Win Seats
On top of buying into Powerfest events or qualifying through satellites, PartyPoker is running a few promotions in which seats can be won. Special Sit & Go Jackpot games will be running between August 14th and September 23rd. Players could win their seat at the $5,200 event for just $2.50. Powerfest tickets can also be won by participating in the fastforward Rake Race which is happening between August 23rd and September 1st. Fastforward and cash games that you play in during Power Hour will earn double points. Moving up on the $60K Leaderboard can get you a seat too.