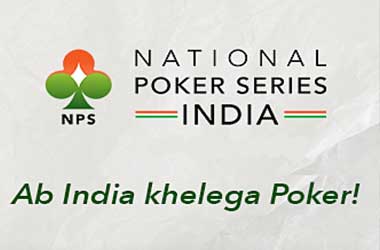 The National Poker Series (NPS) 2020 is set to kick off in India on April 29, and will last until May 5. The NPS will be the first live poker tournament in a country that boasts a substantial gambling population that is steadily embracing the game of poker.
Poker is a recent craze in India, chiefly online poker as both domestic and international operators have sought to meet soaring demand in a country facing a poker boom. In recent years, the boom has resulted in an increase of Indian poker players competing online for huge paydays, which has encouraged more Indian gamblers to test their skills online.
While online poker players in India have multiplied due to the success attained by other Indians in the online battlefield, the country has yet to schedule a live poker tournament that is attractive enough to draw poker players from all over the country.
With the NPS 2020, India is attempting to capitalise on their own poker boom, as well as draw foreign players who are hungry to compete against an emerging player base. The NPS also hopes that their live event will be able to entice Indians throughout country to travel and test their mettle against each other, as well as sharpen their game against overseas poker pros.
Leaderboard Prize
Two of the most successful Indian poker players, Aditya Sushant and Abhinav Iyer, have already signed on to play many of the NPS 2020 events. Sushant and Iyer are both World Series of Poker (WSOP) bracelet holders. Iyer is the first Indian to win a WSOP bracelet.
Sushant and Iyer have thrown their full support behind the event as they believe that the NPS will herald the arrival of a fresh Indian poker scene that could one day compete with popular poker destinations such as Las Vegas and Macau. In particular, Sushant and Iyer identified the NPS' inclusion of a leaderboard prize—where the top 2 players in points will have an all-inclusive trip to Las Vegas—as a key motivator for them to play.
The NPS will feature a number of different events with a series of buy-ins designed to capture all segments of the poker market. Players can buy-in directly to the tournaments, or win a satellite tournament for tickets through the NPS' partner PokerBaazi.com, who will be hosting the satellites on their online platform just before the series.