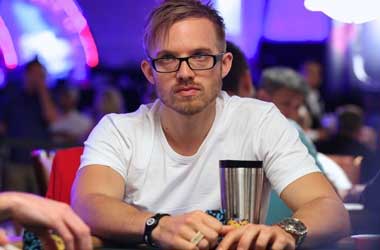 Poker pro Martin Jacobson has reaffirmed the popular notion that the next poker boom will happen in China after he had the opportunity to interact with poker fans during his recent visit to the country.
The Chinese conglomerate Tencent Holdings Limited recently invited Jacobson to appear on a poker show in China.
Jacobson was brought in as a guest on Tencent's poker show with the intention of drawing more attention to the show, promoting the Tencentpoker brand and increasing the overall popularity of poker in the country. Jacobson became the first WSOP main event winner to feature on the program.
The Swedish poker pro is one of the top poker professional players of Europe with winnings of over $15 million in prize money. He is ranked as the number one poker player in Sweden based on the Hendon Mob rating of total prize money won. His career best performance was winning the 2014 WSOPmain event in Las Vegas and bringing home the first prize of $10 million.
Elaborating on the trip which was his first to China, Jacobson said that it was a completely new experience. The highlight for him was seeing how excited poker fans were to meet him and to find out that many had been inspired to play poker after his WSOP main event win. He observed that he was treated like a star which was anextraordinary and refreshing experience for him.
In a statement, Jacbson said,
Starting at the airport in Changsha, I was greeted by poker fans who wanted me to sign anything from a set of red tens playing cards to their bare skin. I later got told that some guys had been driving for hours just for the opportunity to shake my hand.

I believe I posed for at least 100 photos and signed just as many autographs in just a few days, time. I've never experienced anything like it.
Many Chinese companies including Alibaba are launching initiatives to popularize poker in China. The Global Poker League (GPL) recently announced that it had tied up with Chinese television company Sina Sports to promote the GPL in China. Alex Dreyfus, the CEO of the GPL strongly believes that China will be the next big market for the poker industry.
Jacobson who is also a part of GPL said he agrees with Dreyfus' view after his recent experiences in interacting with Chinese poker fans. The Swedish poker pro stated that it is hard to realize the market potential unless one visits China and interacts with poker fans and share in their excitement.