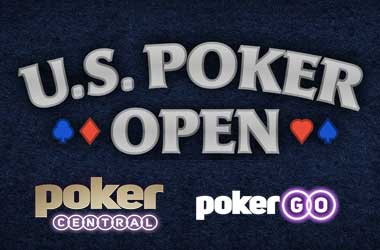 Poker Central is introducing a game-changing high stakes tournament known as the U.S. Poker Open which opens in February 2018. The inaugural U.S. Poker Open will be holding a series of $10,000, $25,000, and $50,000 events from February 1 to 11 at the ARIA Resort & Casino in Las Vegas.
Poker Central's brand-new tournament will be host to one of the highest stakes series of 2018 and this time the tournament will not be limited to no-limit hold'em games. Joe Kakaty, president of Poker Central says that the company has a vision to establish its U.S. Poker Open to be the tournament that kickstarts the high-stakes tournament calendar.
This high stakes tournament will be streamed via PokerGO, who is the exclusive streaming partner of the U.S. Poker Open. Poker Central decided to host the U.S Poker Open at the ARIA Resort & Casino in Las Vegas as the venue has a reputation of hosting some of the most exciting no-limit events. The U.S. Poker Open will host a number of exciting events including no-limit hold'em and high-stake events.
Some of these events will include two $10,000 No-Limit Hold'em, three $25,000 No-Limit Hold'em, and the $50,000 No Limit Hold'em Main Event. U.S. Poker Open will offer a $10,000 Pot-Limit Omaha and a $25,000 Mixed Game Championship. The Mixed Game Championship will feature No Limit Texas Hold'em, Limit Texas Hold'em, Seven Card Stud, Seven Card Stud Hi-Lo 8 or Better, Pot Limit Omaha, Omaha Hi-Lo 8 or Better, Razz, and 2-7 Lowball Triple Draw. The player who has the highest winnings throughout the tournament will be named the first ever U.S. Poker Open Champion and take home the championship trophy.
This new high-stakes mixed games format has been well-received by many poker pros. Six-time WSOP and two-time WPT holder Daniel Negreanu believes that mixed games is the only way high stakes poker will thrive in the long run.
In a statement, Negreanu said,
What you're going to see is – and if you're a poker fan then I would imagine you are interested in improving your game – is truly the best of the best competing every day during this series. You're not going to be able to see poker at this level anywhere else
Players who are interested in learning more about the new U.S Poker Open 2018, can visit Poker Central for the full schedule.