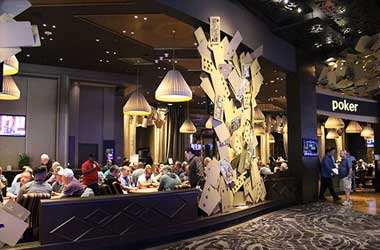 The Aria poker room has finally reopened in Las Vegas. Operated by international hospitality and entertainment giant MGM Resorts, Aria started accepting poker customers from July 1.
The poker room reopened with major changes and restrictions, in accordance to the latest health and safety guidelines issued by the state government.
Aria's new set-up coincides with that of sister property Bellagio, which resumed operations two weeks ago. The room will operate six-handed tables, with plexiglass dividers.
This gives both properties a bit of an edge over other poker rooms which currently offer just five-handed games due to the absence of plexiglass barriers. Among rooms running five-handed tables are those at Caesars Palace and The Venetian.
FOX5 Las Vegas
Normally, cash game tables in Las Vegas can accommodate up to 10 players during peak hours, but right now rooms have been required to operate at reduced capacity to ensure strict social distancing. Six-handed tables are not entirely new to players especially for those who are used to playing shorthanded games. Some casinos such as The Orleans have already expressed interest in upgrading to six-handed games by installing plexiglass dividers at tables.
The poker room at Aria will operate 24/7, but tournament players will have to wait a little longer before they can play as only cash games are allowed for the time being. The room's capacity has also been reduced to just 14 tables, in contrast to the usual 24 during normal operations. Food is not allowed inside the room, and the vicinity is exclusive only to players and staff, meaning spectators will be prohibited from entering.
Station Casinos To Reopen Some Rooms in August
With the poker scene in Vegas slowly becoming alive again, other operators have also announced their reopening plans, including the Station Casinos which operate rooms at Red Rock Resort, Boulder Station, and Santa Fe Station.
A spokesperson for the gaming company said poker rooms at the three establishments could begin re-accepting players in early August. Customers at Palace Station and the Green Valley Ranch Resort will have to wait for further announcement as the reopening date for the two venues has yet to be determined.
Since mid-March, casinos and poker rooms in the US and around the world have been closed as part of mandated lockdowns to prevent the spread of COVID-19. While a number of them are now trying to get back on their knees, some might be force to just shut their doors for good as a result of huge economic and financial challenges.
The threat of the coronavirus still lingers, with cases still rising across several states, including Nevada. Gov Sisolak already issued a warning this week that might still do a U-turn on the reopening of casinos if the situation gets worse.
If thats all too much for you and you want to stay at home instead why not try our selection of the best US poker websites during the COVID-19 pandamic.