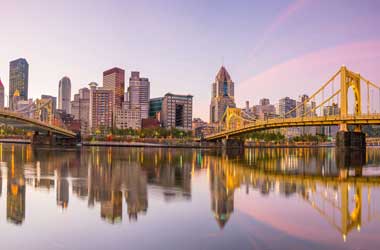 Poker players in Pennsylvania will have to wait longer before they can return to the felts. The state is considering allowing casinos to reopen but poker rooms cannot operate just yet. The Pennsylvania Gaming Control Board this week issued a 10-page document outlining minimum protocols that casino operators need to adhere to as they resume operations in the coming months.
Customers and employees will be required to wear face masks, sanitizing stations will be put in place throughout the facility, and plexiglass barriers will be installed to implement social distancing. The number of slot machines operating might also be reduced to keep players separated.
According to the guidelines, poker rooms will initially remain closed and their operations will be reconsidered based on guidance from the Pennsylvania Department of Health and the Centers for Disease Control and Prevention. The board said poker games will still be prohibited due to players' handling of chips and cards.
Live poker first became legal in Pennsylvania in 2010, but its roots can be traced back to a time when there were still no regulated casinos operating in the state. Pennsylvanians played the game in bars, creating a vibrant social poker scene. When it finally became part of the state's regulated gaming market, players have been given more and better options to enjoy and play the game as well as compete in high-level tournaments.
Some poker rooms in the state have played host to events running as part of major international poker tournaments, such as the World Series of Poker (WSOP).
However, since March 2020, when casinos were forced to close across the country due to the coronavirus pandemic, the bustling poker scene in the Keystone State has been disrupted, and it remains unclear right now as to when action can return to the tables.
Online poker provided an alternative avenue though, via PokerStars PA. During the lockdown period, online poker figures skyrocketed in Pennsylvania as reflected in the massive $5.3 million revenue PokerStars PA recorded for the month of April. The online poker market in PA now holds the record for the biggest revenue generated in a regulated US market, surpassing New Jersey, thanks to the influx of players now playing online as a result of the global pandemic.
No Schedule Yet For Casino Reopening
Meanwhile, the state's gaming board did not provide an exact timeline as to when casinos can reopen, but Executive Director Kevin O'Toole said the reopening will take place in phases, and it is likely that casino establishments will begin accepting customers at different dates. We will have to wait for further updates.