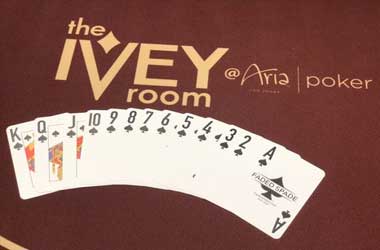 The Aria Resort and Casino has taken down "The Ivey Room" sign from one of its high-stakes poker rooms and replaced it with a simple sign called "Table 1".
This comes amid the legal troubles that American poker pro Phil Ivey is currently involved in. Earlier this month, a federal judge ruled in favour of the Borgata Casino giving it the green light to go after the 10-time WSOP champ's assets in the state of Nevada.
The edge sorting technique used by Phil Ivey and his co-defendant and playing partner Cheung Yin Sun in a baccarat game has been covered extensively in the media.
The two players won approximately $9.6 million but the court's ruled that they were cheating the casino and forced them to return the money.
While the Aria management labels its latest move as simply a rebranding decision, it's pretty clear that the Las Vegas casino isn't keen on having Ivey's name on its exclusive, high-stakes section any longer.
pokernewsdotcom
Aria Director of Poker Operations Sean McCormack said the idea to remove "The Ivey Room" and replace it with the "Table 1" sign came from their poker host Elayne Teitalbaum. A lot of players have been calling the room "Table 1" for quite some now, so the name change was easy to make.
McCormack didn't confirm whether Ivey's baccarat disputes had something to do with the rebranding move. The Borgata Casino is owned by MGM Resorts, which also owns a major stake in the Aria.
End of The Phil Ivey Era?
The Ivey Room was opened in May 2010, just before the World Series of Poker. The original plan was to name it after MGM casino executive and four-time WSOP bracelet winner Bobby Baldwin, but Aria later decided to name it after Ivey, who, during that time, was at the peak of his poker career.
The Ivey Room survived years of negative publicity in relation to Full Tilt Poker (FTP) scandal during Black Friday and it also put Ivey in a negative light as he was a prominent member of FTP. This did not have a major impact on his reputation.
However, Ivey's legal battles due to his baccarat edge-sorting adventures with gambling partner have clearly damaged his name and reputation. Ivey is one of the 56 elite poker players who were inducted to the Poker Hall of Fame. He was at one time being considered the best all-around player in the world. During the launch of The Ivey Room nine years ago, Ivey was the happiest person on the planet. Ivey has so far not said anything regarding the name change at the Aria poker room.