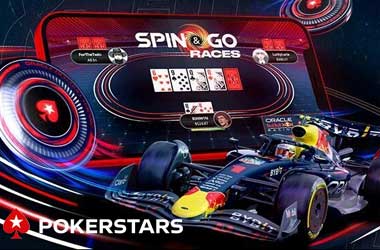 SummaryWin a Share of $100K in Prizes Weekly via
PokerStars' latest promotion awards over $100K in prizes every week
Spin & Go Races is a racing-themed promotion that works pretty much like a leaderboard
Spin & Go Races promo ends on November 20
PokerStars is giving away more than $100,000 in prizes each week via its latest promotion, "Spin & Go Races".
Players have less than two weeks left to take a shot at massive prizes as this auto-racing themed promotion runs until November 20.
How to Enter
Get started now by opting in via the Spin & Go Lobby, the Leaderboard Lobby, or at Spin & Go tables. The promotion works like a leaderboard – you play poker games, earn points, and do your best to finish at the top. As the Spin & Go Races adopts a racing concept, what you need to do to make it to the finish line is to make sure you don't run out of fuel.
Each race involves 22 games which you need to complete. You'll get a full tank of gas at the starting point. You lose gas every time you fail to win a Spin & Go game. The player with the most fuel left at the end of the week will win the lion's share of the prize.
Win Prizes Depending on Your Level
The Spin & Go Races feature multiple levels and tracks, which means all players can participate. If you're a low-stakes player, you will only be competing with those on the same level as you, so don't worry about being up against high-level players as PokerStars wants to make sure the prizes are awarded as fairly as possible.
Buy-ins range from $1 to $250 and you'll receive prizes depending on your buy-in level. Those racing in the $250 level can win as much as $3,000 in weekly prizes, while those playing $1 games are in for up to $200 in prizes each week.
You'll enjoy bigger prizes if you finish in the 1st-10th place. If you're unable to reach those spots, you need not worry as there are prizes up for grabs both in the form of cash and Spin & Go tickets up to the 500th place. Your bid is over the moment you run out of fuel but you can always start all over again and enter a new race. The maximum limit is 3 races per week.
For more details on this latest promotion, visit the PokerStars website.