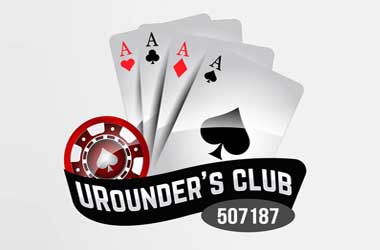 There are a number of online poker websites and online poker apps in the market which is good for poker players as it gives them the opportunity to review and choose which poker room works best for them. The latest poker app that is making a splash is URounders Club, an online poker site that offers a free app which can be downloaded easily.
URounders is legal in the United States because it not a full-fledged online poker operator. Instead, it is a club comprised of like-minded individuals who play poker, and utilise the URounders app as a convenient means of keeping track of their chips.
Once the app is installed, all you have to do is register, login, and make your first deposit—which can be as low as $4 and as high as $4,000. Once done, you can then start playing online poker for real money.
URounders offers cash games and tournaments in a variety of games. This includes the standard games of No Limit Hold`em and Pot Limit Omaha, as well as less popular variants such as Chinese Poker and Five-Card Omaha.
The URounders offers a very similar experience as most of the large online poker operators in a convenient smartphone-sized package. You can personalise your screen name, edit your profile, and choose an online avatar that fits your personality.
Key Focus On New Players
URounders is looking at bringing in new players by offering them some attractive welcome bonuses. There is a sign-up deposit of up to 200% for new players, a "free play" offer of $25, as well as a slew of prizes available through their VIP program. URounders is also constantly brainstorming to come up with new ideas for their site to enhance player experience.
URounder's strong emphasis on the new player experience can be traced to its founder Eric Graul's long history as a card game enthusiast as well as a poker grinder. Graul, who like many other winning poker players transitioned to poker from Magic: The Gathering, empathised with the difficult journey that microstakes poker players face in today's ruthless online poker environment.
Graul observed that the level of play needed for a microstakes player to succeed and move up the stakes has increased so much in recent years because traditional online poker operators rake games at an uncapped rate. This means that they often have to pay more rake relative to the stakes they are playing. Not only do they have to beat other players to gain a profit, they must also beat the rake. Graul fears that this may discourage new poker players. By lowering the rake for its lowest stakes, URounders can ensure that even new players can embark on their poker dreams and have a fair chance to succeed.