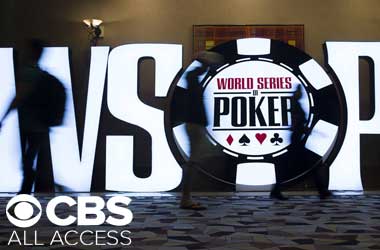 The 2019 World Series of Poker (WSOP) will kick-off on May 30 at the Rio Convention Center in Las Vegas and finish on July 16.
The WSOP has planned a number of special events and surprises to celebrate its 50th edition and poker fans from around the world are very interested to watch the action.
WSOP organizers know that thousands of poker fans from all over the world cannot make it to Las Vegas in person and as a result they have come out with an interesting streaming schedule for the 2019 edition in order to cater to their global fan base.
Poker Central released a streaming schedule for the 2019 WSOP earlier this week and fans will be interested to know that there are a number of changes when compared to the last two years. In the past, most of the live streamed events where via the PokerGo platform with ESPN taking in a few streams of the WSOP Main Event.
The 2019 edition will see CBS taking things over as its live platform 'CBS All Access' is set to stream as many as 25 events exclusively.  CBS will team up with PokerGo to stream another 8 events while PokerGo has exclusive rights to stream 8 events. That gives poker fans a total of 41 events that they will have access to via live stream through these two platforms.
In a statement, Dan Weinberg, Executive Vice President of Programming, CBS Sports said
The World Series of Poker, which is the pinnacle of the game, will be a fantastic addition to our digital and cable channels. We're very pleased to bring this engaging content to poker fans across platforms.
CBS will not only live stream on its CBS All Access platform but will also make some of the 2019 WSOP content available across different platforms such as CBS Sports app, CBS Sports HQ and CBSSports.com.
Poker Fans Will Have To Pay Extra
Poker fans will have access to a lot of WSOP events via the new live streaming schedule but it will cost fans in Australia, Canada and America a little extra.
PokerGo currently charges $9.99 for access to live streaming and those poker players who want access to the CBS All Access platform will have to pay out another $5.99 each month. CBS is offering a free 7 day trial.