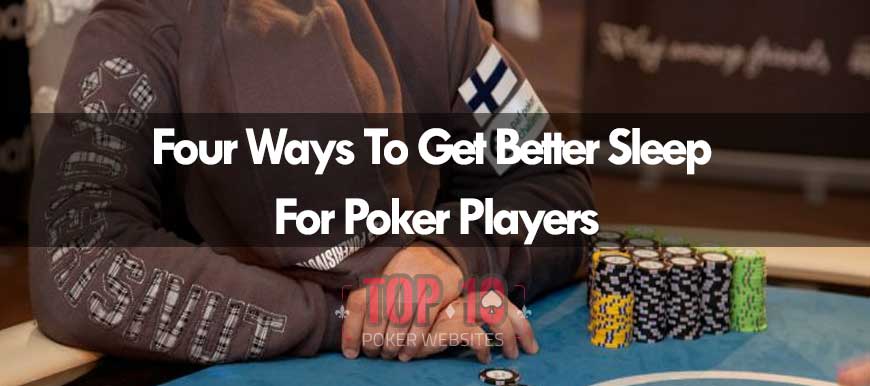 Thousands of poker players are in the process of getting ready to make their way to Las Vegas, Nevada to take part in the 2019 World Series of Poker. The WSOP is the biggest and most popular poker tournament in the world and this edition will have more than $200 million in guaranteed prize money up for grabs.
Poker players from all over the world will show up at the Rio Convention Center towards the end of May to take part in this month and a half long poker festival. The prize money on offer is very impressive but so is the competition. Poker players who attend the WSOP must prepare themselves for long hours at the table, a lot of emotional and mental stress and the highs and lows of winning and losing.
Most poker players tend to neglect their sleep as they want to play as many events as possible and like to burn the candle at both ends. We encourage you not to fall into this trap as it will hurt your game and also your health.
We have put together a list of four tips that will help you improve and increase your sleep which will enable you to perform at your best during the 2019 WSOP.
1. Fix Your Time To Bed
You got to be disciplined about your sleep routine while playing at the WSOP else you are going to compromise on your sleep.
Based on your schedule, decide what time you want to go to bed and stick to that on a daily basis – no matter what comes up.
2. Get A Comfortable Bed
Whether you are staying at a luxury hotel in Vegas or renting out an Airbnb, it is imperative for you to get a place where you have a nice bed and can fall asleep quickly.
Find a room where you can draw the blinds and keep things as dark as possible as it helps you have a peaceful sleep.
3. Light Exercise Or A Pampering Massage  
Don't just go from the tables to your room and expect to fall asleep immediately. Your brain needs some time to detox and a nice 15 minute walk might do it for you. If you can afford it, pamper yourself with a relaxing massage and then hit the bed.
4. Supplements
Don't try and knock yourself out with pain killers or sleeping pills. You can instead rely on the simple stuff that has no side-effects but still work wonders.
A nice green tea before going to bed or a magnesium supplement in the morning will help you relax and start the day on the right note.