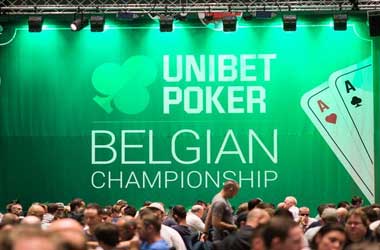 Unibet Poker recently announced the return of Unibet Poker Belgian Championship (UPBC), an event that many European poker players have come to love. The 2018 UPBC is set to take commence from August 30 and will finish on Sep 2. The tournament will be held at the seaside resort of Blankenberge.
The UPBC received high praise when it won the 'Event of the Year' at the recent Belgian Poker Awards. This will be the third year that the UPBC will be taking place.
The first UPBC had Belgium's own Fabrice Lestrade beating a field of 407 and winning €40,107.
The event has continued to grow both in terms of player registrations and prize money with each passing year.
Last year's UPBC had a total of 457 entrants. This included some pretty big names like two-time Unibet Open champion Mateusz Moolhuizen. Unibet Ambassadors were represented by David Lappin and David Vanderheyden. The event saw players from all over Europe taking part and the Main Event had a prize pool of around €300,000. Germany's Heinrich Pauker ended up winning the top prize and walked away with €42,325.
UPBC 2018: Bigger And Better
In a statement, Nataly Sopacuaperu, Unibet Open's Head of Events and Sponsorship, said
This year's Unibet Poker Belgian Championship is set to be even bigger than last year's award winner. We've added two more days to the schedule and now have a third turbo start flight for the Main Event. The Unibet Poker Belgian Championship is going from strength to strength and its success demonstrates just how much enthusiasm there is for great poker events on home soil
Tournament organizers have expanded the UPBC 2018 schedule which means that there will be seven different events taking place during the four day period. The main attraction will be the UPBC Championship Main Event which has a €550 buy-in and starts on August 30. It has three starting flights on the first day, while the next day will have two flights. Plus, players can re-enter as many times as they like if they get eliminated.
The levels for Day 1 and Day 2 will run for 45 minutes. Day 3 levels will be increased to 60 minutes. Anyone wanting a discount on their entrance buy-in can just join one of the online satellites being offered right now on Unibet Poker.
Before UPBC takes place, there will be other Unibet Poker tournaments taking place. There is the Unibet Open Malta which will take place at Casino Malta from May 16 to 20 and will then be followed by Unibet Open Bucharest which runs from August 2 to 5 at the JW Marriott Bucharest Grand Hotel.