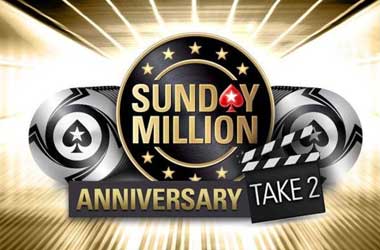 PokerStars had a disappointing Sunday Million Anniversary Special earlier this year and decided to come back stronger with a Take 2 event that created an eleven million prize pool that turned out to be a massive success.
PokerStars celebrated its 12th anniversary of the Sunday Million in February with a special tournament that did not have the desired impact due to an underwhelming turnout. The event fell short by more than 11,000 players, which resulted in a $1.2 million overlay.
PokerStars wasn't happy with the result and decided to come back stronger by launching a special Sunday Million Anniversary Take 2 which once again promised players a $10 million guarantee.
In a statement, Séverin Rasset, director of poker innovation and operations of PokerStars, said
We know a $10 million guarantee is not easy to reach, but we relish the challenge. We believe that our players want to play tournaments like this, where life-changing money is won and lifelong memories are made. If we miss a guarantee or two along the way, it's worth the risk!
PokerStars
So, in a bid to surprise their players and redeem their anniversary special, PokerStars fielded the Take 2 tournament, which attracted a total of 56,310 entries — the biggest turnout for the Sunday Million anniversary event since 2011. With each entry and re-entry costing $215, PokerStars was able to come up with a bigger prize pool than what they expected and succeeded in bringing in $11.2 million.
PokerStars confirmed that a minimum of 2 percent of the prize pool would go to the eventual winner. This meant that the winner would walk away with a million dollars and that meant that the online competition was going to be fierce between the players.
Daenarys T Walks Away With A Million Dollars
After a gruelling virtual battle between more than 56,000 players, day 2 of the Sunday Million Anniversary Take 2 saw 735 players returning to the felt. The 735 players were already set to get a piece of the pie as they would walk away with a minimum of $1,102 each. When it came down to the final 9 players at the table, each player was set to get a nice sum of $63,229 for their efforts throughout the tournament.
The final battle was between players Trigg and Daenarys T who tried to make a deal and settle things but it did not work out. Dutch player Daenarys T ended up winning and walked away with a cool $1,000,043 while Trigg took home $715,335. This was a life-changing win for Daenarys T, who before the competition had only $162,427 in lifetime cashes according to PocketFives.