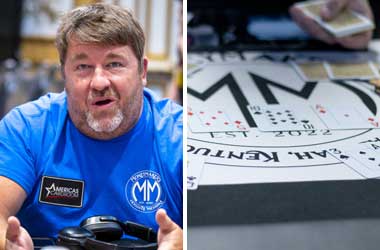 Summary
The Moneymaker Social Club has stopped offering poker games to avoid criminal charges
Moneymaker said the County Manager decided that the room was operating illegally
To save jobs, the establishment will remain open but without poker games
After nearly five months in operation, the poker room at the Moneymaker Social Club, owned by Chris Moneymaker has closed.
The poker room, located in Paducah, Kentucky, has been forced to terminate its operations over allegations of illegal gambling.
Poker Room Opened with Approval from Previous County Attorney
Kentucky is among US states with strict gambling laws. At the moment, the state prohibits nearly all forms of gambling, including casino games. However, the rules surrounding poker are somewhat vague. Since it is widely recognized as a game of chance, many believe it is legal to run poker games in the state so long as the operator does not take any rake from the pots.
Adopting the business model of card rooms in Texas, the Moneymaker Social Club did not charge any rake on players. They were instead required to pay for a membership/seat fee so they could play. The poker room launched in September 2022 with approval from the former McCracken County Attorney Sam Clymer. According to Moneymaker, Clymer stated that the poker room was "100% legal".
The room had operated smoothly without any complaints until a few months ago when Moneymaker applied for a liquor permit from the Kentucky Department of Alcoholic Control (ABC).
Instead of granting the permit, the agency referred Moneymaker's license application to the new County Attorney, Cade Foster, who was elected to his current role in November. Clymer did not run for re-election and stepped down as County Attorney two weeks before the end of his term.
Moneymaker's liquor license application was ultimately turned down by the ABC, and the rejection had something to do with his poker room which the agency said was operating illegally. Moneymaker claimed that Foster knew about his business model before assuming his current position and did not have any problem with it. The 2003 WSOP champ said he isn't quite sure of the exact reason behind Foster's change of stance.
Moneymaker Social Club to Remain Open
Moneymaker decided to shut down the poker room in exchange for avoiding criminal charges. He also negotiated with the County Attorney to allow the club to complete a $50K-guaranteed tournament first before seizing operations.
Moneymaker, who is widely credited for the poker boom of the 2000s, does not intend to entirely shut down the Moneymaker Social Club. It will stay open, offering food, pool tables, and other services, so the club's employees won't lose their jobs. Moneymaker also plans to convert the establishment into something else, though he remains hopeful that he can bring the game back to the club legally.