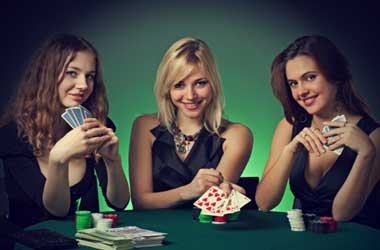 A new survey into women perceptions of playing poker showed that many female players get intimidated by their male counterparts. Online gaming operator 888 Holdings conducted the survey on 2,000 women in the UK. The firm asked the respondents their thoughts about poker and their general experiences in the game.
Nearly half of them (44%) have played poker, but just 16% play the game on a regular basis. The majority of them (81%) also said they enjoyed playing poker.
The survey also revealed major issues hampering efforts to increase female participation in poker.
One of those is the perception that poker is a male-dominated game. 68 percent of those surveyed think that way. This figure is not far from reality.
In 2018, the World Series of Poker (WSOP) Main Event field was dominated by men, with just 3.8 percent accounting for female players. Though the numbers slightly improved in 2019, achieving equal participation still remains to be an uphill climb.
The finding also show that 45 percent of women are more likely to play poker with friends as they feel more comfortable in that setting. A significant number of respondents (47 percent) also think casinos aren't very welcoming to female players, while 45 percent said they've felt intimidated whenever they're at the same poker table with men. Because of this perception, 32 percent revealed they have inhibitions playing poker due to their gender.
More Needs To Be Done
While poker operators are putting in more effort to attract more women into the game, more should be done industry-wide to make this goal a reality. In the UK where this latest survey was conducted, poker rooms and casinos should begin taking a strong stance against intimidating acts. They should work to eradicate common offensive behaviour in male-dominated settings, such as loudness, verbal aggression, and sexism.
Kristen Bicknell, Liv Boeree, Vanessa Selbst and Maria Ho are just some of the female players making it big at the poker table. While the results of the survey do not necessarily reflect the general perception of women in poker, the industry can learn a thing or two on why there remains a wide gap between the number of male and female poker players.
In order to attract more women to play at the tables, the image of poker needs to change for it to become a welcoming environment for all players and enthusiasts, regardless of their gender.