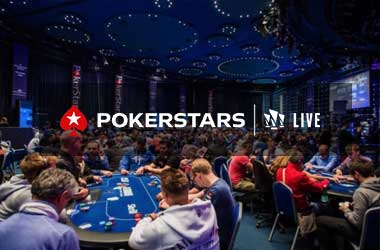 Summary
PokerStars releases new COVID-19 refund policy
Players who test positive must follow these guidelines
List of rules for refunds
Just as poker operators were prepared to get back to running normal live poker tournaments, the omicron variant of COVID-19 showed up and caused panic once again.
Multiple countries around the world are reporting another increase in COVID-19 cases. Casinos and poker rooms in America and Europe are now looking at another potential lockdown.
New COVID-19 Refund Policy
PokerStars decided to come out with a new COVID-19 refund policy for live poker tournaments. Players who register for the tournament but are suddenly unable to take part because of a COVID-19 positive test, will now be able to get a refund provided they fall within these stipulated guidelines.
PokerStars initially came out with its set of COVID-19 refund rules and would go on to tweak them after getting feedback from the poker community on social media. Some of the top poker pros who shared their views on the refund policy included Justin Bonomo who currently sits at the top of the All Time Money list.
Bonomo also tweeted and tagged other top poker operators like the World Series of Poker (WSOP) and World Poker Tour (WPT) reminding them that all of them need to come out with a robust COVID-19 refund policy for live poker players.
Hi Justin.

How does this sound?https://t.co/yfBYTbL2t3

— Willie Elliot (@WillieElliot_PS) December 17, 2021
List of Rules For Refunds
The list of refund rules are rather simple and easy to understand. Players who test positive and are registered for an event that has not started will get a full refund. Players who test positive and have a full starting stack but are not in the money will be eligible to get back their registration fee and buy-in.
If an event has started and a player who is not in the money tests positive and has a stack that is less than what they started out with, they will get a refund equivalent to their stack. If they have 40 percent of their starting stack left, they will get a 40 percent refund along with their full registration fee.
If a player is in the money and tests positive and cannot return to the table, their stack will be in play until it fizzles out. The player will be given a payout based on their final position. To find out more information, check out the PokerStars website.